DISTRICT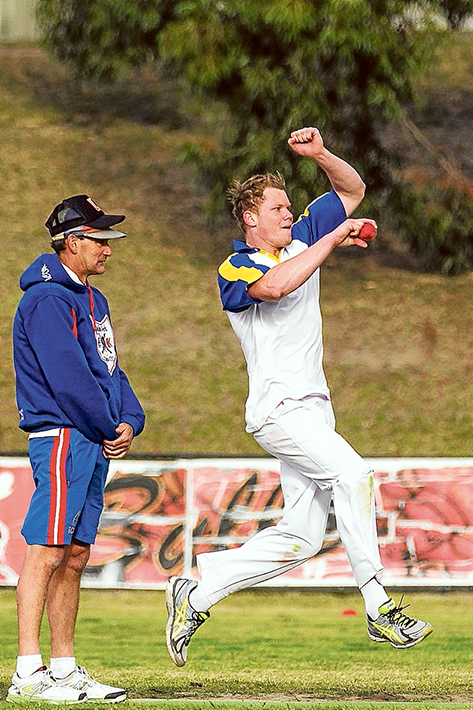 RED HILL, Seaford, Pearcedale and Baden Powell hold the top four positions on the MPCA District ladder after just two rounds.
Pearcedale could be considered the surprise packet of the quartet, given the Panthers are the new kids on the block in District ranks.
However, when you pull-in a recruit such as Shane Maggs, who has been playing District cricket for more than 10 years, your fortunes are going to change considerably.
On Saturday, Maggs snared 3/12 and 4/49 as Pearcedale destroyed Boneo.
Defending a whopping 288, the Panthers then rolled the Pandas for 72 with Maggs taking three and Kane Smith (3/18) and Shayne Gillings (2/10) also getting in on the act.
The home side was forced to put the pads on again and have a second crack. They faired better but still lost 6/99 before the game was called to a close.
Cam Williams scored an unbeaten 42 in the second innings to save Boneo from an embaressing outright defeat.
Red Hill resumed at 4/44 against Carrum, chasing 152. The game was in the balance at the beginning of day two.
However, by the end of the day's play, the Hillmen had against flexed their collective muscles and made an opposition look second rate.
The visitors amassed 8/299 with Matt Merifield belting 132 before being run out.
Skipper Simon Dart helped himself to 84 and Luke Toy scored 25. Red Hill batted for 86 overs.
Jeremy Graves had 3/16 overnight for the Lions and finished with 3/52.
Baden Powell made light work of Seaford Tigers, scoring 9/236 in reply to the Tigers 126.
Resuming at 1/89, the Braves were just 38 runs away from victory with nine wickets in hand when play on day two resumed.
The Braves lost their second wicket with the score on 115 and by the time the third wicket fell, they had won the game.
Opener Tom Wood top scored for the Braves with 84, while Ryan Barnett scored an unbeaten 50.
Matty Meagher picked-up 4/66 to be the best of the Tigers' bowlers, while Corey Hand snared 3/55.
Seaford kept the pressure on Main Ridge in their contest on day two to win by 36 runs.
Resuming at 3/41, chasing Seaford's 201, the Ridge looked good early with Gareth Wyatt (67) and Billy Sakalis (55) taking the score to 128 without loss.
However, 3/128 quickly became 6/142 and the Ridge were in a world of pain.
Paul Hartle was the pick of the bowlers with 4/42, while Tiron Fernando claimed 3/37 on debut.
An 'oh so close' century to Nick Christides (99) guided Delacombe Park to a strong win against Mt Martha.
Joel Malcolm was also solid for the Parkers with 46 to help them to 223, chasing 188 for victory.
Kyle Bendle was the pick of the Mt Martha bowlers with 6/46.