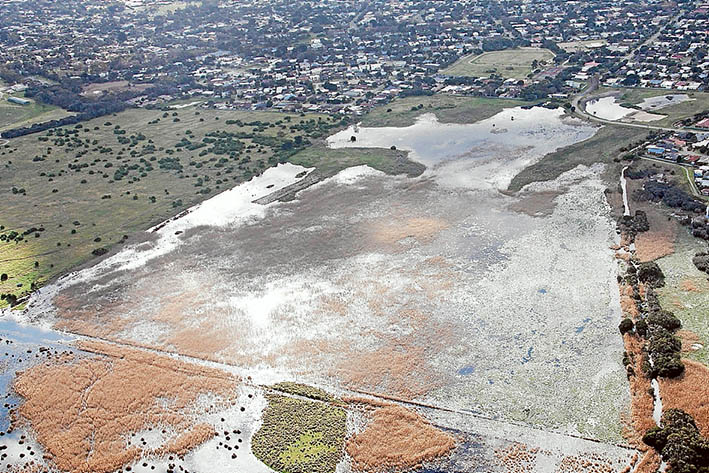 COMMUNITY lobby group Save Tootgarook Swamp has filed an application in the Victorian Civil and Administrative Tribunal to carry out native revegetation works in a part of the swamp that VCAT ordered developer Watermark Villages to carry out in April 2011.
Watermark owns 92 Elizabeth Ave, 6.2 hectares on the edge of the wetlands, which it wants to develop as a retirement village with 99 dwellings.
The site was cleared of native grasses in 2008. VCAT ordered that it be restored and a revegetation plan was supposed to be submitted to the shire within 120 days but this did not occur.
The move is likely to embarrass Mornington Peninsula Shire, which has done nothing to enforce the revegetation order.
Save Tootgarook Swamp president Cameron Brown said the land "had been left to languish for the past four years".
"Described by authorities as 'superlative', the swamp is currently being reviewed for Ramsar status [an international structure that protects wetlands]. It is home to more than 40 significant species of flora and fauna including the endangered Australasian bittern," he said.
"Our application puts planning laws and the whole process of environmental protection under the spotlight."
He said "tactics" used by Watermark to avoid the native revegetation order and the shire's lack of enforcement needed to be brought to the attention of VCAT.
The application is believed to be a first for Victoria in that it seeks to allow someone other than a council to carry out native revegetation work ordered by VCAT.
"By making this application to VCAT we hope to break the impasse and carry out the urgently needed native revegetation works ourselves based on our extensive local knowledge and our group's comprehensive Tootgarook Swamp management guidelines," Mr Brown said.
Meanwhile, on Monday night last week, shire councillors refused two applications by two companies to develop 92 Elizabeth Ave – the 99-dwelling one from Watermark Village Pty Ltd and one from Lifestyle Communities Ltd for 163 dwellings.
Lifestyle Communities has an option to buy the block from Watermark.
The Watermark application has been listed to be heard at VCAT on Friday after the council failed to determine the matter within 60 days.
Melbourne Water has objected to the application. Save Tootgarook Swamp lawyer Michael Morehead said Melbourne Water was the "determining responsible authority" for the matter and its objection could not be challenged in the VCAT.
"Also, if Melbourne Water says 'no', the council can't say 'yes'," he said.
First published in the Southern Peninsula News – 3 November 2015