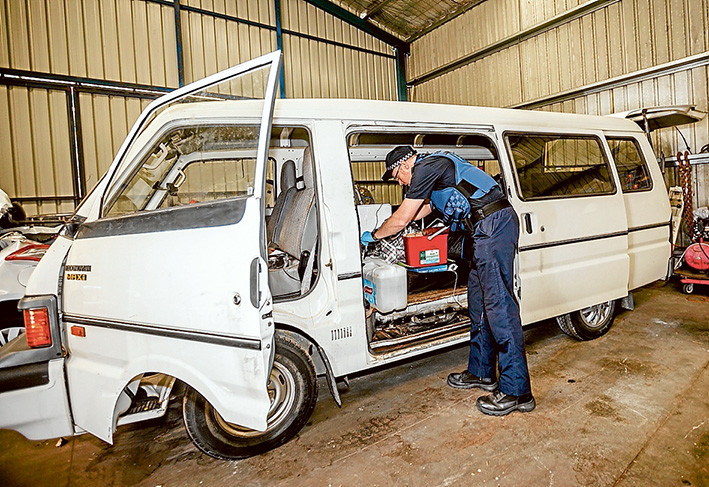 A CARAVAN parked on the Rosebud foreshore and later found to be stolen was a holding pen for property stolen from residential and holiday homes from Carrum Downs to Rosebud.
Inside the caravan and in a stolen Ford Econovan police found an Aladdin's Cave of missing items valued at thousands of dollars.
The light-fingered "owner" of the vehicles, of Frankston North, was last week charged with 13 counts of burglary, theft, car and caravan stealing, and obtaining property by deception. He was remanded at Frankston Magistrates' Court on Friday 23 October to reappear at a date to be fixed.
Detective Senior Sergeant Nick Vallas, of Somerville police complex, said members of the public reported a man "door handling" in the Rosebud area – walking quickly past cars and trying their door handles to see if they were open – and raised the alarm.
Police drove to the foreshore and interviewed the suspect, who Detective Vallas described as a "transient".
The man claimed to be the owner of the white Econovan, which was later found to be stolen from South Australia. The caravan's number plates were allegedly stolen from Page Bros. RV, of Wells Rd, Seaford.
"The fellow could not produce his bona fides as to ownership of the van, the caravan or the goods," Detective Vallas said. "He consented to a search and police found a lot of property which turned out to be stolen over the previous five days."
The haul included wallets and their contents from car break-ins at Frankston, Frankston North, Mornington and Mt Eliza, electrical goods and TVs from a Seaford retailer, as well as the campervan, which was reported missing from Carrum Downs. The total value was estimated at $40,000 for the caravan and its contents and $1000 for the Econovan.   
Police will allege credit cards stolen from wallets were used to buy items from unsuspecting retailers. They say keys to several homes had been stolen and then used to rob them of valuables at different times.
"One house in Frankston was broken into in April and then again in the past five days," Detective Vallas said.
"The man may have travelled back and forth and a lot of property may turn out to have been stolen from over a much longer period."
Police on Tuesday towed the van and caravan to a secure Mornington Peninsula vehicle depot to sort through the stolen items. They are now working to reunite the rightful owners with their property.