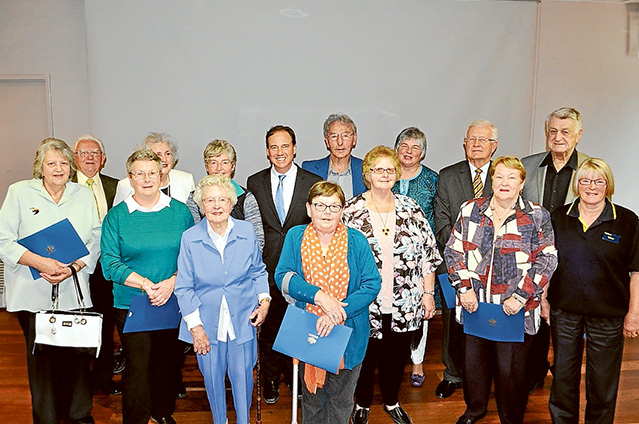 SOME of the peninsula's longest-serving community volunteers have been recognised with Flinders Seniors Awards.
The awards were started six years ago by Flinders MP Greg Hunt who told a gathering at Rosebud RSL late last month that his awards recognised "the significant contribution our older residents make in the community".
"In my electorate I am privileged to have many older residents who dedicate an inordinate amount of their own time to assisting others in the community," he said. "These volunteers are the backbone of our community, unsung heroes who dedicate countless hours to helping others without expecting anything in return."
Awards went to (selected roles in brackets): Ann Lorkin (Flinders District Historical Society, Shoreham CFA), Bernard Woiwod (Rye Historical Society, Probus, St Vincent de Paul, Food For All, Rye cemetery trustee), Bob Donaldson (Dromana Rotary, Riding for Disabled, volunteer driver), Eileen Murray (Southern Peninsula Rescue Squad), Elaine Wallbridge (Rosebud Police Senior Citizens Register).
Elizabeth Lloyd (breakfast program at Rosebud Secondary College, schools religious education coordinator), Florence (Vi) Moore (Dromana Seniors Citizens, "aunty" to camping children), Frances Henke (post-polio syndrome activist, publisher, meditation teacher), Kath Barker (Rosebud Police Senior Citizens Register).
Margaret Mildern (Western Port Community Support), Marie Parkinson (dancing school pianist, Neighbourhood Watch, police senior citizens registers), Mary Griffiths (community bus driver), Pamela Rowler (Dromana Football Club, Probus, Dromana-Red Hill RSL, CFA, Guides, Dromana Primary School, debutante ball instructor, National Serviceman's Association), Tom O'Dea (Alcoholics Anonymous volunteer, family violence activist) and John Harvey (Mt Martha Life Saving Club).
Frances Henke, who contracted polio in 1946, used her acceptance speech to promote Polio Awareness Month and efforts by the post-polio syndrome community to win greater recognition and government support.
"We are faced with huge challenges following introduction of the National Disability Insurance Scheme. Most post-polio sufferers are too old to qualify as NDIS cuts out at 69.9 years," she said.
"This means aged care services must be trained to provide affordable home care and equipment needs for people over 65 with disabilities.
"With an estimate 400,000 polio survivors in Australia, we are the largest physical disability group, yet Polio Australia gets no government funding. It is providing clinical studies for health professionals, information support for polio survivors, and health and wellbeing retreats for 'polios' but spends too much time fundraising. Imagine what it could do if properly resourced?"
She said doctors needed to be trained to recognise the symptoms of post-polio syndrome. 
First published in the Southern Peninsula News – 10 November 2015