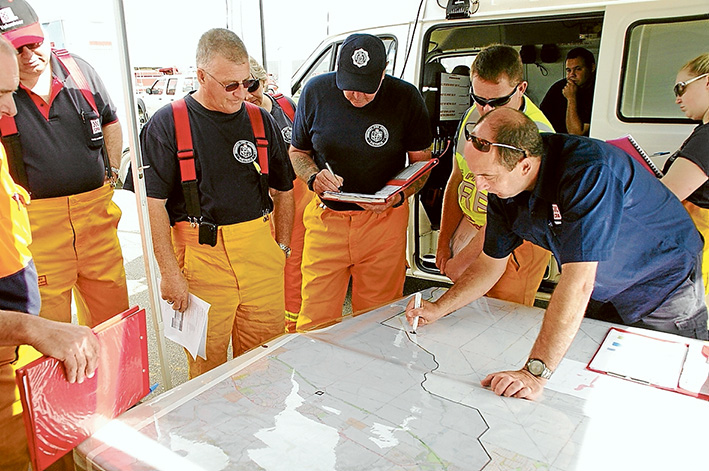 MAIN Ridge and Boneo will be the stage for a pre-summer CFA training exercise on Sunday 22 November.
Joining CFA crews will be staff from the Department of Environment, Land, Water & Planning and Parks, and a water bombing helicopter.
CFA brigades from across the Mornington Peninsula, along with those from as far afield as Casey and Cardinia, will converge on Arthurs Seat to test pre-planning and management to combat a major fire on the peninsula.
"The exercise will simulate a rapidly developing fire starting on the southern side of Arthurs Seat and running south toward, and into, the Mornington Peninsula State Park," coordinator CFA deputy group officer Tony Riley said.
"The focus will be on protecting lives and property and managing a large-scale incident.
"It also gives CFA volunteers from different localities an opportunity to familiarise themselves with the topography and vegetation on the peninsula."
CFA operations officer Sean Kerr said the training was "critical to our preparation for the upcoming fire season and provides our firefighters with realistic training in what they might come across this summer".
"This particular exercise was originally planned for last year but, ironically, rain forced its cancellation at the last minute. This year's lower-than-average rainfall has made training like this all the more important."
The CFA advises residents of Boneo and Main Ridge to be aware that there will be about 50 CFA and DELWP fire trucks operating in the area on the day.
They should take care on the roads 9am-4pm due to increased traffic, especially around Purves, Boneo and Browns roads.
Details: Megan Angel 0457 410 298 or email on m.angel@cfa.vic.gov.au
First published in the Southern Peninsula News – 10 November 2015