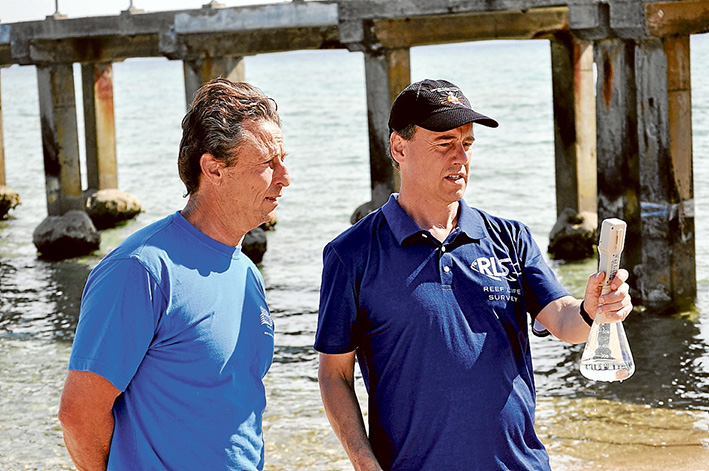 TO the casual observer at Dromana it may have looked like a group of people was having an enjoyable day at the beach. There were some tricky balancing acts on stand-up paddleboards and quickly arranged photos.
There was enjoyment and the need for balance, but it was also the arranged announcement of the involvement of "citizen scientists" in monitoring water quality.
Flinders MP and Environment Minister Greg Hunt jumped aboard a SUP to show how water samples could be collected offshore and then, with John Gemmill of the Clean Ocean Foundation measured the water's PH level.
Mr Hunt, a long-time supporter of the foundation (he sported a Clean Ocean sticker on his car and his supporters wore the foundation's t-shirts when handing our how-to-vote cards on an election day), said $400,000 from the National Environmental Science Program would be used for citizens to collect and test water samples.
The program would be led by Clean Ocean and the results of this monitoring of sewage outfall flows and pollution levels would be added to a national database.
"The program will monitor the impact of sewage on our marine biodiversity," Mr Hunt said.
The program will see "fishers and surfers … become citizen scientists in a major new science project to monitor the impact of sewage on Australia's marine biodiversity and ecosystems".
"Together with researchers, recreational water users will contribute to a National Outfall Database (NOD), to be developed in consultation with the states and Northern Territory," Mr Hunt said.
"The research will form the basis of a national collaboration between communities, scientists, water authorities and government agencies with the aim of working together to reduce the pollution load on our marine environment."
Mr Gemmill said Clean Ocean Foundation was "honoured to be asked to deliver the NOD. It is a very important step in the cleaning up of Australia's coastline".
"Since achieving our crucial goal of the upgrade of the Eastern Treatment Plant that discharged at Gunnamatta, Clean Ocean Foundation has been focusing on addressing outfalls from a national approach, because our oceans know no borders," Mr Gemmill said.
First published in the Southern Peninsula News – 10 November 2015