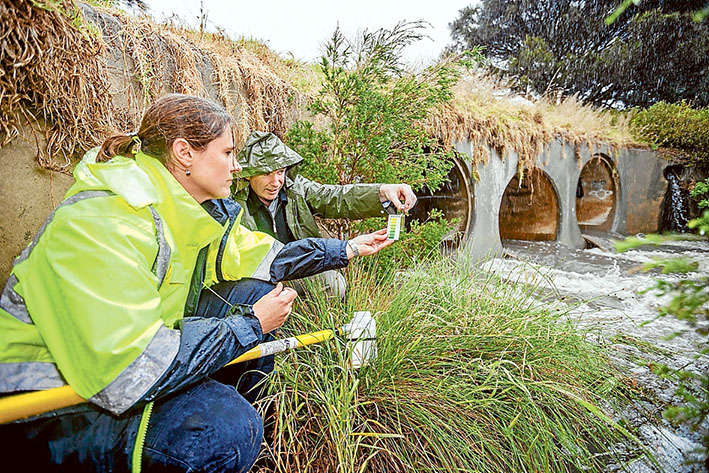 A COMMON fish tank water quality test kit is tackling stormwater pollution at Mornington beach.
The innovative test has been recognised at this year's Stormwater Victoria Awards.
Staff from the Environment Protection Authority worked with Mornington Peninsula Shire Council, Melbourne Water and Melbourne University's Centre for Aquatic Pollution Investigation and Management on the project to improve water quality there.
The EPA's recreational water quality program co-ordinator Darren Cottam said the test was part of the project Hitting the Hot Spots, which he described as a strategic approach to point source pollution management on the peninsula. It received two high commendations in the awards.
"The project was recognised for its ability to rapidly identify and trace pollution sources in stormwater drains and waterways," Mr Cottam said.
"The test itself looks like a small box which is placed in the stormwater drain for a period of time, and a colour scale indicates how much ammonia is in the sample.
"It works by detecting ammonia, which is usually found in higher levels where faecal pollution is present.
"The test is reusable: it can be used up to 100 times, and results are revealed within five minutes in the field. Overall, the test offers a cheaper and faster way to detect faecal pollution which can pose health risks to recreational water users.
"The low cost and simplicity of the test means that council health officers can test more samples more often from local waterways near the beach, making it safer for everyone to enjoy."
The test is routinely used by environmental health officers at Mornington Peninsula Shire Council. The EPA is working with its partner organisations to implement the test at Frankston beach.
The Stormwater Victoria Awards recognise innovations in stormwater management that help protect the health of our beaches, ecosystems and communities.
Water quality updates are available on the Cleaner Yarra and Bay website:  cleaneryarraandbay.vic.gov.au