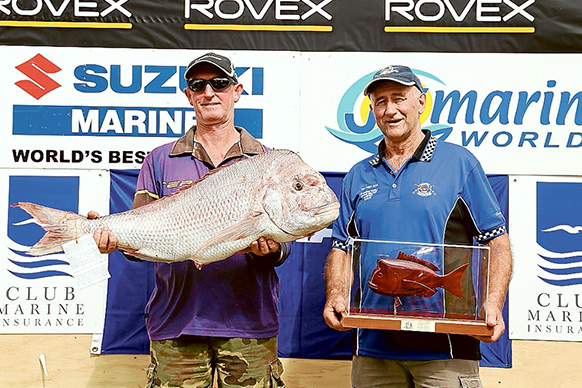 THE three winning fish in this year's Snapper Point Angling Club Tea Tree competition were caught in Western Port.
Although based at Mornington, the competition ranges over both Port Phillip and Western Port, which also yielded the most fish: 947 out of a total bag of 1360.
However, the number of competitors, 1537 (including 159 juniors) outnumbered the fish.
John Close, of Boronia, was the overall winner with a 12.07 kilogram fish, making him the new Victorian snapper champion.
Theo Hatzis, Pakenham, came second with a 10.23kg fish and Norman Kemp, Cranbourne North, was third with a 10.11kg fish.
Held over two days, 30 and 31 October, the contest saw competitors face changing conditions, from early light winds to strong afternoon south easterlies on the Friday to a thunderstorm and heavy rain on the Saturday. All was clear in time for the presentation.
In the juniors Natalie Bills came first with a 9.51kg, Jai Evans, second, with 7.34kg, and Skye Lutwyche, third, 6.68kg.