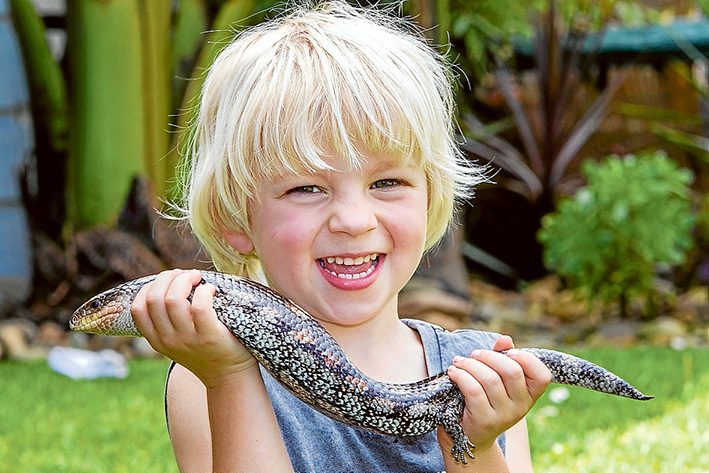 WHEN the Sayle family's long-loved pet went missing 18 months ago Amy Sayle believed blue tongue lizard 'Aussie' would never be seen again, but a chance conversation with a neighbour has led to a family reunion.
Mrs Sayle said 45 centimetre long Aussie had been part of the family for 14 years before he went missing from his Balnarring home.
"We obviously thought he'd been eaten by something or died somehow," she said.
On Sunday evening the mother-of-four was talking to a neighbour who mentioned they had found a lizard last year that "was really sick and had been attacked by something".
The neighbour said the lizard was handed in to Balnarring Primary School about a kilometre away but was believed to have died shortly afterwards.
"I thought it must have been Aussie but since he'd died I didn't want to tell the kids. But then she ran over half an hour later and said 'he's alive and he's living in the Balnarring Primary art room'."
Mrs Sayle collected Aussie from the school on Monday. She said Aussie is quite the traveller. He once went missing for six months from a previous family home in Bittern but was eventually found under the washing machine in the laundry room.
"He'd been eating the cat food and he was as fat as anything," she said.
Aussie also went missing for a few weeks in Shepparton but found his way back home himself on that occasion.
"He's got nine lives – it's amazing."
Aussie the lizard was a 4th birthday present for her eldest son Jesse, now aged 18, and he and all the Sayle children Ebony, 14, Bodhi, 5 and Kai, 2, are all happy about his return from the presumed dead.
"He's very special and my kids are over the moon that he's back," Mrs Sayle said.
Aussie may have a few more lizard years left in him yet. The average lifespan of a blue tongue lizard is 20 years but they can live up to 30 years in age.
Mrs Sayle reckons Aussie could have a new lease of life thanks to 18 months of tender loving care by Balnarring Primary School pupils and teachers after they nursed the injured lizard back to health.
"We have a massive gratitude to them for looking after him."
Balnarring Primary art and science teacher Pea Saunders said Aussie "had scratches all over him as if he'd been mauled by a cat" when he arrived at the school 18 months ago.
"He was struggling to eat and drink any water so he just needed lots of cuddles and lots of TLC and he pulled through even though we didn't think he would," she said.
As well as having a new habitat for 18 months, Aussie also had a new name during his stay at the school: Browny.
Balnarring Primary houses a menagerie of animals, Ms Saunders said. Several classrooms are home to blue tongue lizards, bearded dragons, long-necked turtles and frogs. Goats, rabbits, guinea pigs chooks and ducks live in a sustainability area on the school's grounds.