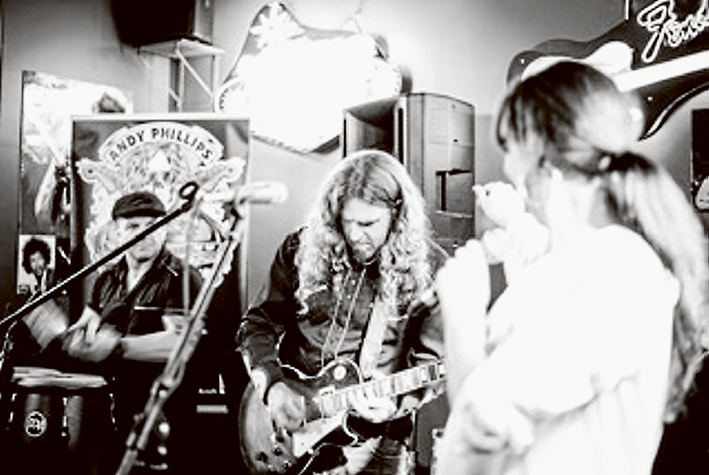 By TERRI LEE FATOUROS
What a fantastic turn out recently when Andy Phillips of Cadillac Walk fame and his partner and manager Heidi LaFaerie hosted their VIP merchandise launch party at the Double G Saloon in Mornington recently.  Fans of the Cadillac Walk can now buy T-shirts with the bands new insignia printed on it, get mugs, stubby holders and a host of other cool stuff that acts as a constant reminder of their fav band.
"The new logo design by international artist for Harley Davidson, was commissioned with a view that we wanted a cool design for our merchandise that people would want to buy and wear," LaFaerie said.
Double G was packed to capacity with much drinking and eating going down when support musicians, Didi Reyes, Glen Sharpe and Jordie Fitzgerald kicked the party off.
By the time Andy Phillips and The Cadillac Walk took to the stage with Scotty Weir-Smith on percussion and Brendan Burking on bass, there was considerably more dancing and much more drinking to be seen.
During their set the gorgeous Nicole Nehemia, vocals and husband Jason Nehill, bassist from Safari Motel fame joined in and belted out a couple of songs.
There were so many familiar faces partying; Maria Cassar of Blue Muse, Jim Love from Backyard Brew, Jaci Denman, Greg Fisher who writes Blues Illustrated for Mint Mag and hosts his blues radio show on Southern FM, Louise Castle, Callum Lausberg, guitarist from Lionhouse and Jade Lindsay, vocals who'd earlier entertained with a couple of tunes plus a host of other regular friends and fans of The Cadillac Walk.
The party was a fabulous success and Double G Saloon supplied finger food and alcohol could be purchased from the bar.
Phillips continues to pull in big crowds and although his touring schedule is extensive both in Australia and overseas, his humble demeanour remains the same. His distinctive style has a chilled 'feel good' vibe yet still gets the beat pulsating in your veins. You can't tire of Phillips superb guitar mastery; in fact on a few occasions in the past when he has morphed into 'The Zone' the bloody thing actually sings on its own!  Apparently the sign of a true master, unnerving to say the least but awesome when it does and wicked for those fortunate enough to hear and witness it. 
To show your support for Andy Phillips and the Cadillac Walk, jump on board and visit their website and get yourself some 'cool stuff'.  Oh, and thanks for my T-Shirt lovelies, I look forward to wearing it. 
Andy Phillips and The Cadillac Walk perform regularly around Melbourne and the Mornington Peninsula.