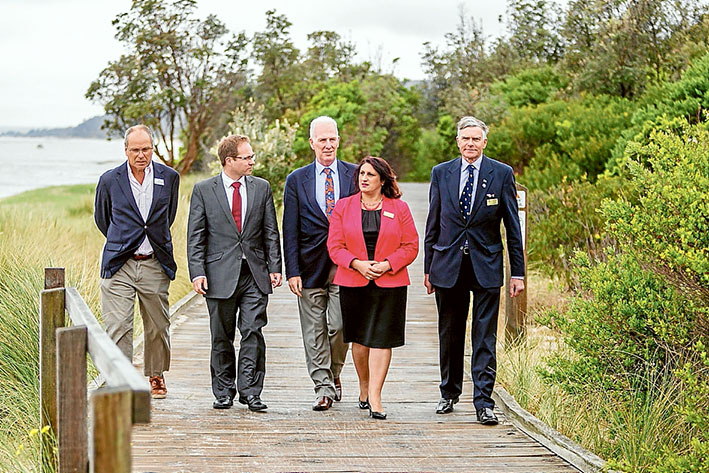 THE Destination Rosebud project, part of the state government's Interface Growth Fund, was launched earlier this month at Rosebud pier.
Eastern Victorian Region MP Daniel Mulino did the honours, alongside the then mayor Cr Bev Columb and councillors Antonella Celi and David Gibb. Also attending were representatives of Seawinds Community Hub, local schools, Rosebud West Action Group, Rye Rosebud Rotary, Southern Peninsula Community Support and Information Centre, Rosebud Senior Citizens Club, Rosebud Chamber of Commerce, Rosebud Lions Club, Rosebud police and Mornington Peninsula Tourism.
The total value of the project is $5.5 million with the council contributing $1.35m from this year's budget. It is expected to provide 33 jobs and inject $10.6 million into the local economy.
The project includes streetscape works at the entrance to the town at Point Nepean Rd, creation of a shared street and car park and plaza/pier forecourt at Jetty Rd, public wi fi access at the pier area, improvements to the public toilet near Jetty Rd, design guidelines for the town, lighting around foreshore areas, pavement renewal, event infrastructure as well as soundshell works, bin surrounds, planters, picnic tables, barbecues and shelters.
Improved beach access and money will contribute towards the Jetty Rd foreshore recreation node master plan adopted by the council, including a "nature-based" playground.
First published in the Southern Peninsula News – 24 November 2015