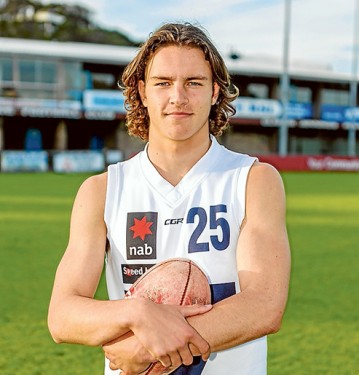 WHILE footy fans sit with their feet up waiting for the new season many players are already putting in the hard yards to get up to speed for preseason training having been awarded a scholarship to the AFL Academy.
Luke Davies-Uniacke, a 16-year-old midfielder from Rye, has his eyes on the prize of an AFL playing career and is determined to keep improving his game to try to make his dream a reality.
In 2011 The News reported the then under-12 player represented Victoria at the School Sport Australia Championships in Canberra and Luke has hit every mark in the intervening years.
He snared a hat-trick of Best and Fairest awards at Rye Junior Football Club in 2010, 2012 and 2013 and was voted B&F in the Mornington Peninsula Junior Football League in the same years.
Last year Luke was selected to represent Victoria in the under-15s National Football Championship in Sydney and wore 'the Big V' with pride.
Now the teenager, who also plays up forward, has his sights set on the big league while training at the AFL Academy.
"I've been doing a bit of gym preseason three times a week so that's been pretty full on," he said.
"I've sort of set a goal for myself to be a bit bigger and stronger than last year."
A two-year program at the AFL Academy sees players meet AFL players, coaches and game day analysts to learn from the best in the game.
There were 203 graduates of the AFL Academy on AFL lists last season, including nine club captains.
Luke also plays for the Dandenong Stingrays and his school Haileybury College in Keysborough but is keeping his feet firmly on the ground despite his footballing progress to date.
"I've learned that nothing comes easy … and basically I've got to be able to kick with both feet, handball both sides and be bigger and stronger than my opponent every year because there's always that one person who wants to work harder than you on and off the field so it comes down to hard work."
Luke, a Hawthorn fan, admits a shot at an AFL career is not a given, and he's still one year away from being a possible draft pick, but he says he would jump at the chance to play for "any Melbourne side" given the chance.
Looking at his career stats the name Luke Davies-Uniacke could be one to look out for local AFL fans come draft time in two years' time.
First published in the Southern Peninsula News – 24 November 2015
This article was amended on 27/11/15 to report Luke Davies-Uniacke is 16 years old, not 17 as originally reported, and will be available for possible AFL draft selection in two years' time and not next year.