DISTRICT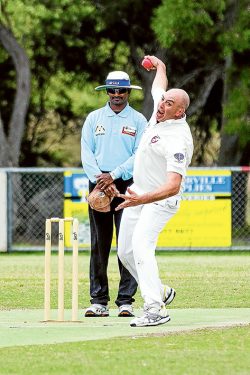 PEARCEDALE has dropped a place on the MPCA District ladder but still remains entrenched in the top four after going down to Red Hill in a nail biter on Saturday.
The Hillmen have now placed a 12 point buffer between themselves and the Panthers while Baden Powell holds top spot after its fourth straight victory.
The Panthers went close to picking up the win against the Hillmen but fell 10 runs short.
Chasing a modest 140 for victory, Pearcedale resumed at 5/86 with Chris Dew (33) and Kaine Smith (13) at the crease.
Dew (57) and Smith (22) were cruising and had the home side purring along at 5/125, just 14 runs from a draw and 16 runs from victory with five wickets in hand.
However, Red Hill paceman Lincoln Toy entered the fray and turned the match on its head. Toy, together with Brent Martin, took the next five wickets for five runs and rolled Pearcedale for 130.
Toy finished with 5/41 from 16 overs.
Baden Powell remains the dominant side in the competition, rolling Seaford with ease.
Chasing 152 for victory, Baden Powell resumed at 1/89 with Nathan Cassano unbeaten on 51 and Rhys Elmi on 25.
While Elmi added just four runs, Cassano finished with 93. The Braves ended the day 7/233.
Seaford used 10 bowlers, Aaron Peebles being the best of them with 2/46.
Carrum successfully defended its 139 against Main Ridge.
Resuming on 3/16, the Ridge was bowled out for just 98.
Jeremy Graves, who had two wickets overnight, finished with 4/25, while Liam Dobson snared 3/23.
James Abbott top scored for the Ridge with 47.
Heatherhill posted an outstanding victory against Seaford Tigers.
The Hills resumed at 1/11, chasing the Tigers' 177 and needed a good start to the day to lay a solid foundation.
That good start came in the form of Kristian Miller (66) and Christian Heath (44), who put on 115.
Jake Theobald then contributed 32 to help the side get to 7/187 with plenty of overs left in the match.
David James was the pick of the Tigers' bowlers with 3/34.
Boneo was never a chance of beating Mt Martha, who posted 310 last week.
Jake Smart and Kyle Bendle took 2/16 and 2/24 respectively to help roll the Pandas for 156.
Delacombe Park fell 19 runs short of victory against Flinders.
Jon Guthrie made 50 and Craig Blight 46 for the Parkers to help the home side to 211, chasing 230.
Losing 4/32 in the middle order cost the Parkers the game.
Matt Burns was the pick of the bowlers for the Sharks with 3/39 from 22 overs, while Max Royal claimed 2/42 from 20 overs.