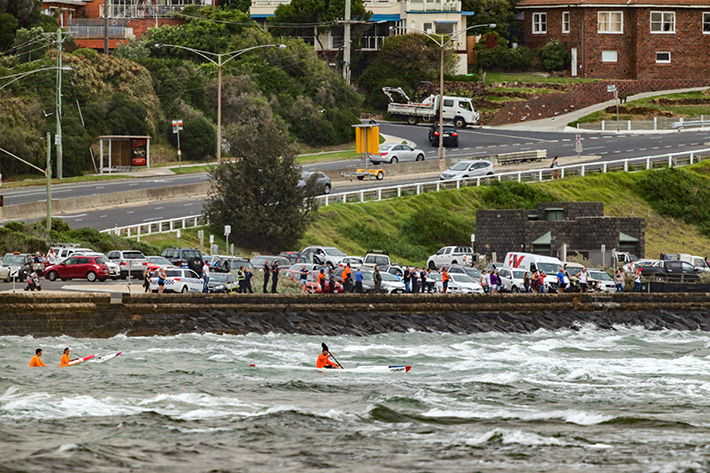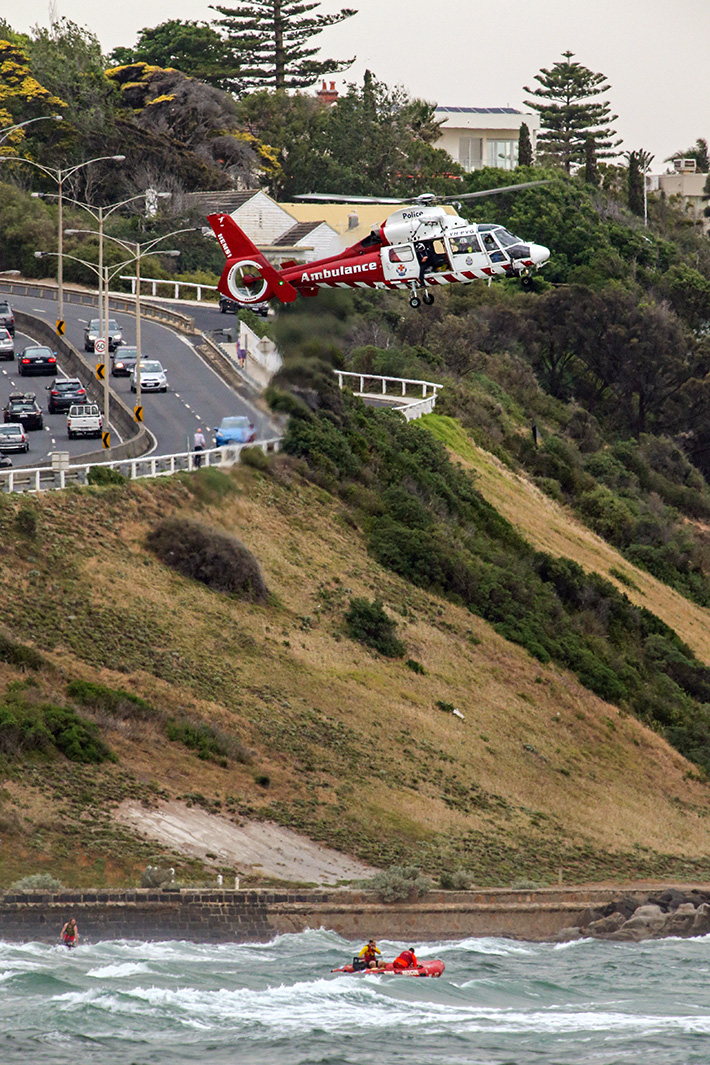 A LANGWARRIN man and his teenage son pulled four people to safety in surging seas off Frankston, Wednesday afternoon, but could not find a fifth man whose body was spotted later by ambulance helicopter.
Peter Edwards and son Trent, 17, were sitting on the sand after kayaking near the pier when a young man of Pacific Islander appearance ran over for help. "He said someone was drowning," Mr Edwards said.
"It's all a bit vague now but I remember dragging our kayaks under the pier and seeing four heads bobbing about in the water and we got out there as quickly as we could."
Conditions were rough on a day of strong northerly winds and high temperatures. A cool change was expected later in the day and the beach was crowded.
"I got to them first," Mr Edwards said. "Three of them were yelling at us and then I saw a girl had been separated from them. I paddled over and she grabbed the handle at the back and we headed for shore. She was very distressed.
"The other two grabbed Trent's kayak and the strong waves pushed them towards shore. The fourth one managed to swim in by himself."
Only then did Mr Edwards realise another person was unaccounted for – and likely to be in serious trouble. "We set out to try to find him and Trent paddled down towards Oliver's Hill, but he was exhausted.
"I stayed out there until the boats and the helicopter came and found [the man] about half an hour later and then went back to shore.
"I have no idea what happened to the people we helped, or where they went afterwards."
An Emergency Services statement late Wednesday said, "Crews conducted a search of the water near the pier after a report of a person missing at about 5pm. The man was recovered from the water, but Ambulance Victoria paramedics were unable to revive him. Police are investigating and will prepare a report for the coroner. The deceased is yet to be identified."
An experienced kayaker, Mr Edwards said Trent deserved praise for his bravery. "He's a novice, he's just started.
"It was a huge effort for him to go back out.
"We got smashed by two-metre waves and it was very rough. "It was all very upsetting for the four we assisted and the girl, particularly, was very distressed.
"We were there for half an hour before the other services arrived and yet, by that time, the other man had been swept a kilometre down the beach to where the sand finishes and the rock wall starts."
The lack of emergency assistance personnel has prompted Mr Edwards to call for regular lifesaver patrols, or even a manned club booth, at the southern end of the beach under Oliver's Hill.
Frankston Lifesaving Club members assisted in the search for the missing man alongside other emergency services, and manned the radio at the clubhouse. "This unfortunate incident is further evidence that there needs to be greater awareness of the aquatic risk surrounding the Frankston pier and general foreshore in this area," president Tim Cutrona said.