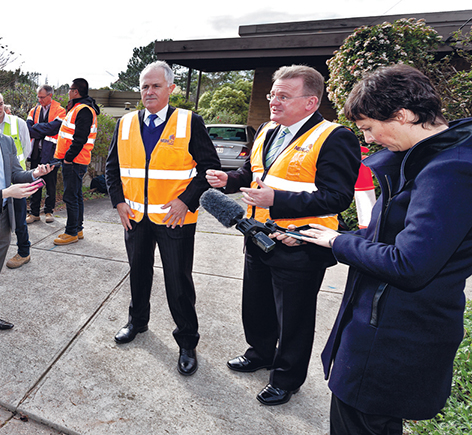 DUNKLEY will have a new elected representative after the next federal election. That result a certainty after Liberal MP Bruce Billson announced he is quitting politics last week.
In a statement released last Tuesday (24 November) Mr Billson said he will not seek re-election and "decided it is the right time to 'hang up the campaign R.M. Williams' [shoes]".
The former small business minister's exit from politics follows a 20-year stint as a parliamentarian including 12 years as either a cabinet or shadow cabinet minister.
Mr Billson was axed from cabinet by incoming Prime Minister Malcolm Turnbull after Mr Turnbull ousted former prime minister Tony Abbott in September.
Mr Billson's decision to walk away from politics came after consultation with his family.
"It has become clear to us that while I love what I do, it is not possible for me to fully do what I love," he said in the statement.
He described his time in parliament as "both challenging and incredibly satisfying" since it included many roles in portfolios such as veteran affairs, defence, foreign affairs and trade, immigration, indigenous and multicultural affairs.
"To be able to work 'selflessly' for your community and nation is what is required and rightfully expected.  However to do so requires a 'selfishness' in terms of availability and intellectual focus which family experience as being physically and mentally 'away' an awful lot and for key events.
"Our conclusion after much consideration is that the goal of a more family-friendly professional life of purpose, challenge and impact is best pursued in another field."
Despite being dumped from cabinet, Mr Billson vowed to support the Turnbull government by "ensuring the talented new Ministerial team has maximum opportunity for 'clear air' and a sure-footed start".
He thanked his "sweetheart Kate, my children, the incredibly talented and committed staff I have had the good fortune to work with, the Liberal Party, my campaign team, supporters and all those whose advice, support and wise counsel has made possible my parliamentary career and the honour of representing the community in which I grew up."
"I have loved these days and make public this decision with no regret, remorse or bitterness."
Frankston mayor Cr James Dooley thanked Mr Billson for his work on behalf of the region in a statement issued by Frankston Council.
"The Honourable Bruce Billson has served our community well for two decades, having done everything that he can for our community. This announcement is a great loss for council, as we will need to establish the same strong report and working relationship that we currently enjoy, with his successor. Whatever the Member for Dunkley chooses to do next, we have no doubt that he will succeed."
Cr Dooley said council is preparing a federal election lobbying plan, following its Speak Up For Frankston state election advocacy campaign last year, to "provide our city with an opportunity to highlight and escalate projects for our community".
Labor has preselected defence lawyer Peta Murphy as its candidate for Dunkley at the next federal election. The Liberal Party will now be forced to undertake a preselection process to nominate a candidate to contest the seat.
Mr Billson will stay on as Dunkley MP until writs are issued for the federal election, just under a fortnight before polling day.
The next federal election must be held before or on 14 January 2017.