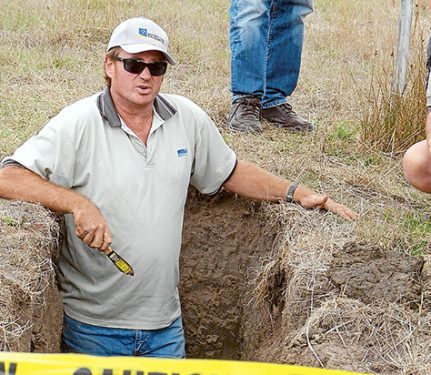 ALTHOUGH humans rely on soil for food, clean water, fuel and natural fibre production, nutrient cycling, animal feed and more, it is an under-appreciated resource, says peninsula Landcare Network officer Jacqueline Salter.
"This year is International Year of Soils and to celebrate, Mornington Peninsula Landcare Network is inviting landholders to learn more about their soils and how to protect them at a Farm Planning 101 workshop," she said.
"Experienced soil officer Lindsay Hyde will guide small property owners through basic introductory soils training and hands-on activities to help participants understand healthy soil function and productivity."
Deborah Jobson has done Mr Hyde's workshop: "Lindsay was absolutely fantastic. The workshop was hands-on and extremely practical. It catered for people of all backgrounds. I got a very large aerial photograph of my property that I can use for planning," she said.
Ms Jobson has implemented much of the knowledge gained during the workshop on the 16-hectare Balnarring property that she and husband Wayne have owned for 10 years.
"I learnt how to better manage the wet areas on our property. We've installed a gate to keep our 10 Waygu cattle out of wet areas during winter."
Ms Salter said Lindsay Hyde was a former secondary school teacher with an obvious flair for providing knowledge and a passion for promoting sustainable land management.
He said it was important for landholders to have "the knowledge, capability and understanding to manage their land sustainably, and running these workshops is a way to achieve this".
He has undertaken an undergraduate degree in education as well as post-graduate studies in natural resource management. Before working in Mornington Peninsula and Gippsland regions, he was in northern Victoria with the state environment department helping landholders tackle salinity and soil degradation.
He was a catchment management officer with the Department of Environment and Primary Industries for many years.
The workshop is 9.30am-3.30pm Saturday 5 December at Bittern Community Hall, 2426 Frankston-Flinders Rd, Bittern. Cost of $25 covers maps, workbook and lunch.
Registration essential as places are limited. Register by Tuesday 1 December by emailing jacqueline.salter@mornpen.vic.gov.au or call 0408 213 079.
First published in the Southern Peninsula News – 1 December 2015