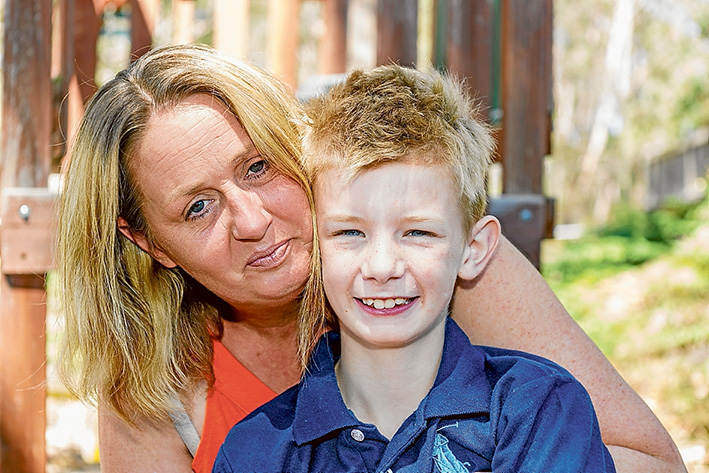 A ROSEBUD mother "went into panic mode" on 11 November when she feared her autistic son had been left on the school bus unattended – again.
Belinda Hunt, whose son, Kaileb, 9, attends Peninsula Specialist College, Dromana and was being picked up and dropped off by a private school bus each day, says she now does the job herself.
In March, he was "missed" by the driver of the Westernport Road Lines at school drop-off and spent either 50 minutes or several hours – depending on who's asked – alone at the back of the bus parked at the depot.
"I assumed he was at school," Mrs Hunt said of that episode. "But they had no idea where he was. I was running around screaming for a few hours until we were notified."
Mrs Hunt said her son, in shock and unable to attract attention to himself, did not eat or drink on the bus as he waited to be discovered. Fortunately, the driver returned and "got quite a shock" to find him still in his seat.
She said her high-needs child depended on people supporting him and he had been traumatised by the events.
This first incident prompted Mrs Hunt to push successfully for revamped safety procedures, liaising with the bus company, school and even visiting the Student Transport Commission.
"I felt they had made a mistake," she said. "All I wanted was change. The company and the bus driver all apologised."
The changes resulted in a review of procedures, roll checks, seat inspections by the driver and chaperone, and even placing signs on the dashboard saying the bus had been checked and was empty.
But, on Wednesday 11 November, with the bus presumably running late, Mrs Hunt was again left wondering when Kaileb "went missing" during after-school drop off.
Inadvertently, the driver sailed past the usual stop without realising one of his young passengers had expected to get off where his mother was waiting.
The exact details are in dispute, but Mrs Hunt, in panic, called the school and the police, while the school called the bus line which – although safety procedures were implemented for just these reasons – "still didn't see him on the bus".
"It took a lot of calls for them to realise he should be on the bus," she said.
"I thought he had been taken or gone walkabout. We were just lucky he was still on the bus." It had eight children aboard that day.
Mrs Hunt said Kaileb had boarded at 2.50pm and was eventually taken to the correct stop at 4.15pm, where her mother-in-law was waiting while she checked other stops for her son.
"If you'd seen what I went through," Mrs Hunt said. "I feel like if it happens again and something horrible happens it will be my fault.
"I drive him to school now because I can't put him on the bus again until the guidelines are followed."
Westernport Road Lines depot manager Mark Turner disputed the length of time Kaileb was on the bus in the second incident, saying he was "missed for a short period of time, maybe 20 minutes" back in the first incident in March.
Safety measures put in place, largely thanks to Mrs Hunt's initiative, meant the procedural aspects of the service were "under continual review" and working well.
"The second time he was in the company of the supervisor and the other students and the situation was completely different," Mr Turner said.
"The child was not left on the bus. The driver missed his stop and, within five minutes, he had received a phone call and the bus turned around and took him back to his correct stop."
He said changes implemented by the bus lines included a full day's staff training, including learning how to recognise the different behaviours of students. "A lot of the kids behave as normal on the bus while others are challenging," he said.
"Our special school service buses are extremely busy and some small children are good at hiding. There were lots of contributing factors and some of the kids just sit there, they don't yell out if they are missed."
Principal Peter Koop said Peninsula Specialist College "takes the safety of its students very seriously".
"We will be working with Westernport Road Lines to understand [the] circumstances surrounding this recent incident," he said.
First published in the Southern Peninsula News – 8 December 2015