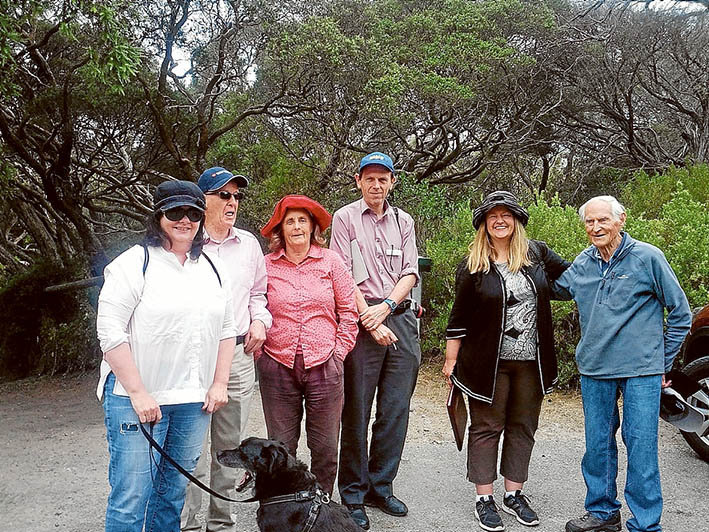 SINCE its relaunch in January the Sorrento-based Tuckey Track Friends Group has been restoring habitat along the two kilometre track and reserve.
"The commitment of our core members and having the support of the wider community when we need it, make our achievements possible," convenor Julie Corridon said.
Despite some protection from planning overlays the track was under pressure from planned developments.
"Recent discussions of plans for a large scale development and heliport adjacent to Tuckey Track in Ivanhoe St, Sorrento, and the Mornington Peninsula National Park, have further raised residents' concerns," Ms Corridon said.
"Other subdivision plans along the track also pose a threat to the much loved walking track."
A draft management plan has been drawn up for the track and last week members of the friends group walked the track with Mornington Peninsula Shire strategic planning manager, Allan Cowley.
Ms Corridon said Tuckey Track is partially covered by heritage and environmental significance overlays and a larger part located within an area of Aboriginal cultural heritage sensitivity.
"However, other sections of the track are not recognised within the planning scheme," Ms Corridon said.
"The friends group is motivated by other community groups who have worked with the shire to preserve the landscape character of their neighbourhoods."
BirdLife Mornington Peninsula will include Tuckey Track in its monitoring program over the next two years.
Ms Corridon said the shire's biodiversity strategy has "heightened the group's awareness of the need for habitat protection".
Margaret Mather said the group knew that threatened coastal moonah trees were being removed and urged property owners to check with the shire about its regulations.
First published in the Southern Peninsula News – 15 December 2015