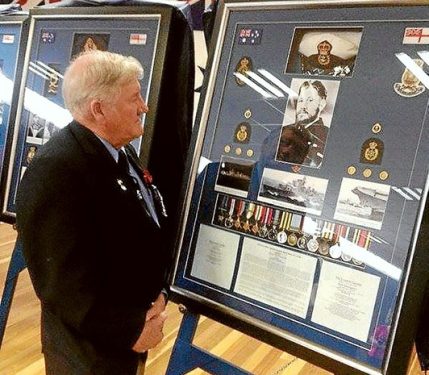 IN the 114-year history of the Royal Australian Navy, just five men have been awarded the George Cross, making them the Navy's bravest of the brave.
Although they are honoured individually at points across Australia there has never been a joint memorial to their heroism. That changed at Hastings on Saturday last week when Commodore Jack Rush, RFD, QC, unveiled a memorial tribute at Hastings Community Hub, Frankston-Flinders Rd.
In a display of inter-service solidarity, he was accompanied by Army hero and VC winner Keith Payne.
The tribute was prepared by the Victorian Maritime Centre to be part of a complex planned for the Hastings foreshore to house the submarine, HMAS Otama, and the former Port Phillip pilot ship Wyuna.
The tribute comprises photos and citations for each of the five winners. Their stories are spine tingling: Jonathon Rogers, having helped smaller colleagues escape from the sinking HMAS Voyager through a tiny hatch, bravely led the trapped remainder in hymns as the waters closed around them. Then there is Leonard Goldsworthy, George Gosse, John Mould and Hugh Syme, who defused mines and booby traps, in positions of appalling peril and discomfort.  Maritime Centre president Max Bryant said: "Reading their stories it is hard to believe that no serving RAN member was ever awarded the Victoria Cross.
"The George Cross is the second highest award for bravery, but it is hard to see what more these five could have done to demonstrate their courage – the more so since each had also been decorated for heroism on previous occasions.
"They are heroes of the highest order. They deserve national recognition."
Before construction of the new centre it is hoped the tribute will go on display at other venues around Australia