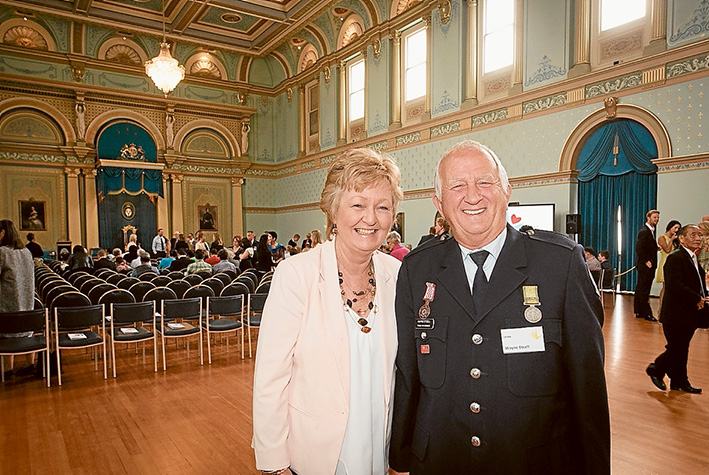 TYABB CFA officer Wayne Etcell is donating the $10,000 he received for winning the Victorian Premier's Metropolitan Volunteer of the Year – Dame Elisabeth Murdoch Award to the brigade.
Mr Etcell, of Somerville, received his award from Victoria Governor Linda Dessau at a ceremony at Government House last week.
It is a wonder he had time to attend as his work-load is staggering: the busy 63-year-old audits full time for the Tax Department, puts in almost another week's voluntary work with the CFA, as a Justice of the Peace and also as a bails justice.
Mr Etcell took up the volunteer's mantle at 16 and remained a member of the Chelsea Surf Life Saving Club for 10 years – two as treasurer – and group leader with 1st Chelsea Scouts for five years, during which time he was assistant district commissioner of leader training.
He now divides his voluntary hours between the CFA in the bushfire season – where he is a qualified assessor – and his bails justice role where he is charged with being an impartial, deciding authority in cases involving bail and bail conditions and also decisions on child welfare. His normal "after work" roster means he is on-call 4pm-midnight week days and 4pm Friday-7pm Sunday as one of only 77 bails justices in the state.
His patch extends from Dandenong to Mordialloc and to Rosebud – an area with 14 police stations. In the fire season he is on call daily to fight fires across the Mornington Peninsula and across the state.
He has been involved in flood and bushfire campaigns all over Victoria, including the Black Saturday fires for which he received the National Emergency Medal in 2013.
Mr Etcell enjoys the camaraderie of his voluntary roles and the feeling of helping those less fortunate than himself.
"I come across people from all walks of life under difficult circumstances. My primary objective is to help them and, especially, to take care of the welfare of the child," he said.
Dawn Tonge, who nominated her partner for the award, said he "always had a strong desire to give back to the community and finds these roles an immeasurable source of personal satisfaction and enjoyment".
"He's always available to help people with inquiries and signing documents. His friendly and inviting manner is a welcoming light to some people who are often confused and require reassurance over confusing documentation," Ms Tonge said.
"The role of JP requires him to be available at any time of the day for people to visit our home, or have Wayne go to them. He also makes himself available on occasional rosters at the police station as resident JP for a few hours in the evening."
Tyabb station captain Stephen Birkinshaw described Mt Etcell as "certainly a most valuable long-time member who's very important to the brigade and many other organisations in the community".
Mr Birkenshaw said the $10,000 would go towards car parking at the station.
Mt Etcell was nominated by his colleagues at the Tax office to receive the Australia Day Achievement Medallion which he received in 2009.