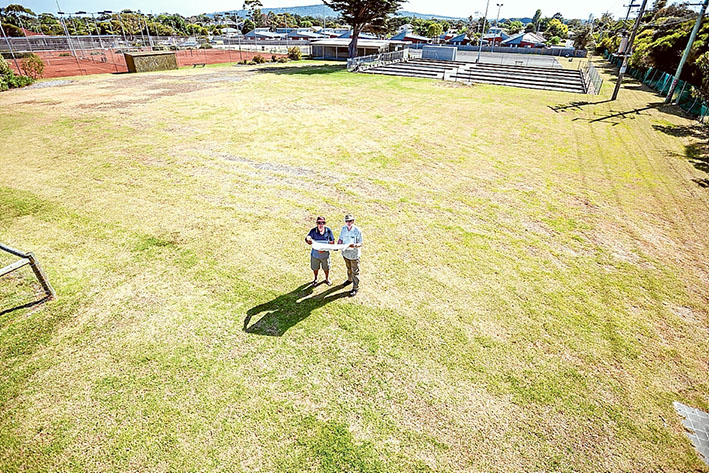 SAFETY Beach-Dromana men's shed members can be "reasonably hopeful" their dreams of a new headquarters will be fulfilled.
Although no formal approval of a grant from the Mornington Peninsula Shire has been given, the shed's application for $40,000 funding has been favourably received and is being assessed.
Members' hopes now rest on inclusion in the shire's mid-term budget review, which will be announced in the New Year.
The men's shed has around 30 members who meet at least three times a week to engage in community activities, socialise over coffee, and do some "pretty impressive trades work", president Rick Plummer said.
Members have put behind them the disappointment of being knocked back for a state government $60,000 grant in January.
If that application had been successful – coupled with the shire's promise to match it – members would have had $120,000 with which to build their new headquarters.
Undeterred by the knockback, members have set about raising their own funds – about $40,000 – and asked the council to match it. Now they await the green light to build on their site at Dromana Recreation Reserve.
The shire's Director, Communities, Robin Adams, said the shed members had modified their plans for a new shed after the state government knock-back. "I met with them and they were able to put forward a strong case for funding," he said.
"They are an incredible lot who have worked diligently, and they can be reasonably hopeful that we will be able to help them out.
"We support them and, while there are no guarantees at this stage, they have convinced me they can pull it off."
The shed's troubles began when they were asked to vacate their site at the Don Bosco Camp, Safety Beach, late last year after two years. Owners, the Salesians of Don Bosco, based in Ascot Vale, cited a "lack of compatibility" between the shed's activities and camp management's aims of providing a safe and enjoyable experience for children.
The eviction put in doubt the shed's role in a range of community events, such as providing wood craft activities for the Dromana Australia Day Community Breakfast, woodwork instruction to school children, furniture restoration, community vegetable garden and many other activities.
And it undermined the shed's concept of being an important social outlet for retired men who may otherwise feel isolated.
Now things are looking up, with shed members modifying their plans to now build a $100,000 headquarters. Within 12 months of opening, they are confident of doubling their membership.
"After being asked to vacate the camp the guys bonded together," Mr Plummer said. "They are a stubborn group and got to work raising funds – we have sausage sizzles at Bunnings, which can raise $1500 on a weekend, and we had 80 year olds out delivering phone books mid-year; we haven't stood still and we are not asking for handouts."
Donations of electrical equipment have been gratefully received and there's even a promise of free earthworks by Dromana road and excavation company Maw Civil, which could save the shed project thousands.
Managing director John Plumridge said "the money is not the issue" when confirming the free earthworks. "We have been supporting them for 12 months; they are lovely people and do worthy work."
First published in the Southern Peninsula News – 22 December 2015