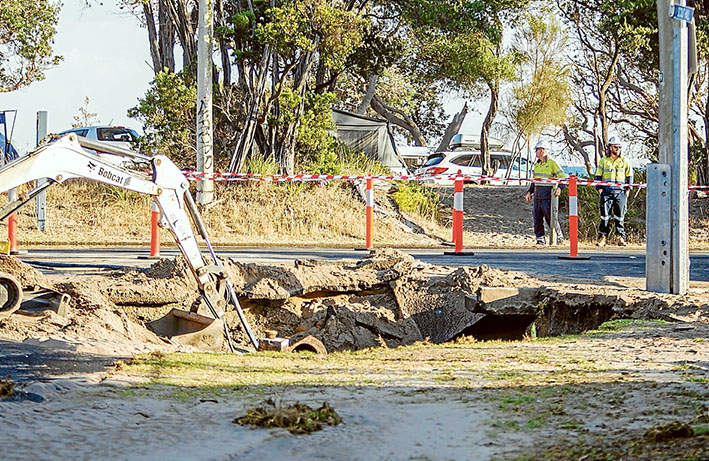 A RUPTURED water main forced emergency workers to close Point Nepean Rd, Tootgarook, Wednesday morning.
The torrent of water from the main gouged a three metre by two-and-a-half-metre hole in the bitumen.
The highway was closed both ways between Keith and Kevin streets and traffic diverted while works were completed.
Point Nepean Rd resident David Stanton said he had "been ringing South East Water to discuss the emergency all morning, and every time I ring they advance the time it will take be fixed by an hour".
"It's like a crater in the road; there's a lot of damage and we've had no water this morning. I wanted to water the garden because it's going to be 40 degrees."
Glen Puhalovich, of Maine St, Tootgarook, said he awoke to the noise of diverted traffic in his normally quiet street at 4am.
"I went out and all the cars were being herded down my street," he said.
Mr Puhalovich said there was "a lot of water in people's yards and lots of sand on Point Nepean Rd".
South East Water spokesman Matt Mollett said claims of a sinkhole were incorrect.
"This type of occurrence is normally instantaneous and quite different from a sinkhole, where water usually circulates under the surface for a long period of time, eroding the foundation underneath."
Crews repaired the mains rupture and restored water supplies early Wednesday afternoon.
First published in the Southern Peninsula News – 19 January 2016