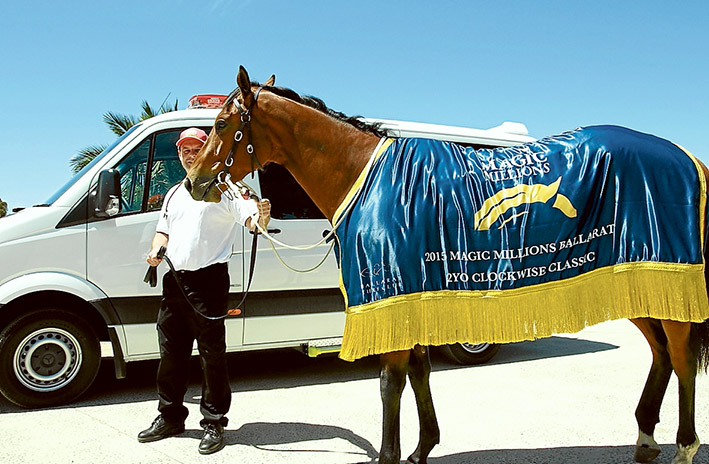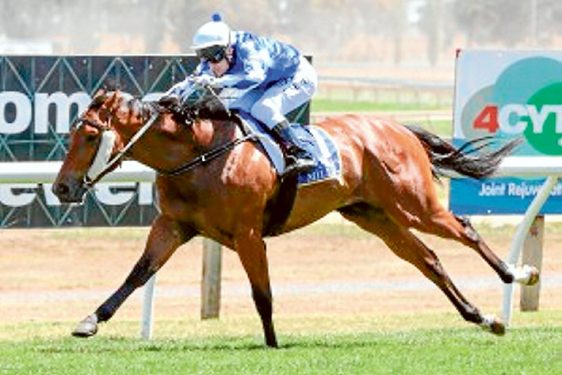 ALTHOUGH he didn't win the Magic Millions 2-year-old Classic on the Gold Coast, the nine local owners couldn't be happier with Mornington horse Claro El Banco.
In only his fourth race – and third since winning the Magic Millions Clockwise Classic over 1000 metres at Ballarat in November – the gelding came eighth in a field of 16, earning $10,000 prizemoney.
"He ran well considering the barrier draw – number 17 – and didn't lose ground," said part-owner Peter Seaman, of Somerville, who attended the $2.5 million race Saturday last week.
"We are all very proud of him and loved the whole Magic Millions experience. It was fantastic just being there: where else could you be enjoying champagne with [the Queen's grandchild] Zara Phillips and [businessman] Gerry Harvey at the barrier draw?"
Big prizemoney added to the thrill of the race in what were described as challenging conditions. The winner, Capitalist, received $1.2 million, second placed Nikitas $370,000, third-placed Candika $180,000, fourth $90,000 fifth $50,000 and all the others $10,000.
Claro El Banco seemed to feel right at home, with Mornington trainer Jason Petch saying his charge had "thrived" in the two-week lead-up to the feature race on Saturday 9 January, despite tiring late to finish seventh in the Wyong Magic Millions Classic over 1100 metres on the way there.
"A lot of horses can come up to this warmer climate and they can thrive and he now looks like a piece of shiny copper – his coat is magnificent," he told Racing News before the race.
Another part-owner, Roy Farrell, of Mornington, said Claro El Banco was one of two Victorian horses in the race – the other guided by well-known trainer David Hayes. "He ran a tremendous race and the jockey, Glyn Schofield's, report afterwards was glowing.
"We are only a group of small-time owners and lovers of racing. We have now doubled our outlay in prizemoney, and it is an absolute thrill to even get this far."
The nine owners paid $80,000 for the horse which won $155,000 at Ballarat in November – allowing him entry to the Magic Millions – and $10,000 last week.
He'll now have a well-earned rest at Beaudesert, near Brisbane, before contesting some of the big autumn races in Melbourne.
Mr Seaman said Claro El Banco could race at the Gold Coast again as a three and four year old. "He has a bright future up there," he said. "And he likes running the wrong way (clockwise, as in NSW, and not counter-clockwise, as in Victoria).
The owners paid tribute to small-time trainer Petch, who was still driving home along the east coast last week. "He really puts in," Mr Seaman said.
"My heart goes out to him. We get messages daily; he had a two-to-three-week plan for the race and he organised track riders beforehand.
"He's really done the right thing by us."