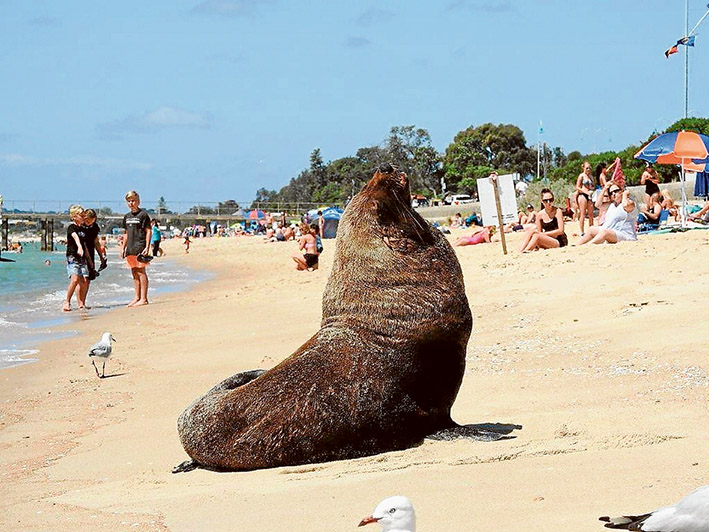 ARCTO has become a regular attraction at Dromana, but the rules are: look but don't touch.
The adult bull seal first landed on the beach two summers ago and this year took up residence for four days early in January.
On warm days beachgoers vying for their own bit of sand make it a bit hard to avoid the Australian fur seal (Arctocephalus pusillus doriferus), although Arcto seems happy enough to share.
"This is Arcto's third straight summer at Dromana and we want to make sure people stay at least 30 metres from him if he does come back," Department of Environment, Land, Water and Planning (DELWP) authorised officer Abby Smith said.
Protected under the Wildlife Act, onlookers must stay at least 30 metres (dogs 50m) from Arcto and not touch or feed him.
Ms Smith said she had "checked" the seal when he first appeared this year and found him to be in "fair to average health".
"He is a wild animal in his natural environment and we do not wish to unnecessarily interact with him," she said.
"While we understand some people might be curious or excited to see Arcto, the best chance of him staying in a non-stressed state is if people keep their distance.
"We ask also those who might have dogs in the area to take a common sense approach by using a leash and remaining vigilant if Arcto is nearby.
Ms Smith said the seal could have "all the time it needs" on the beach before getting "back into the swim of things".
For more information on the regulations, visit www.delwp.vic.gov.au or call 136 186.
Sick, injured or distressed marine wildlife can be reported on 0447 158 676.
First published in the Southern Peninsula News – 19 January 2016