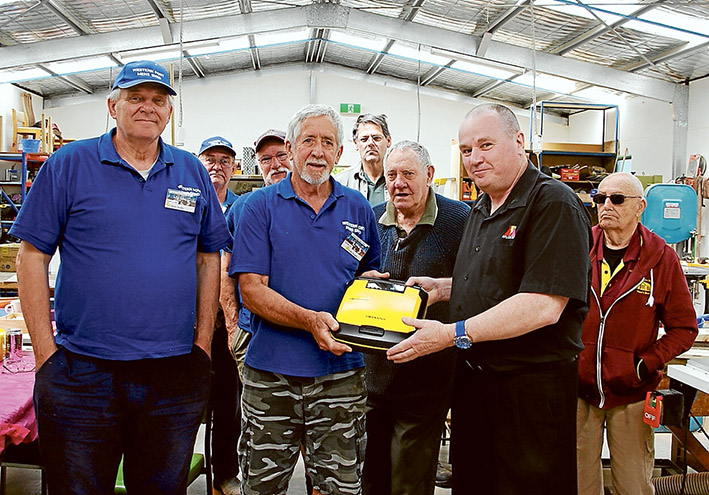 WHEN a local Men's Shed member collapsed suffering a heart attack last year he could have been dead within minutes had it not been for the quick action of one of his colleagues applying CPR while waiting for an ambulance with the necessary equipment.
The member survived the attack but the incident lead to a discussion with the Hastings Community Bank (Bendigo Bank branch) around the need for an on-site defibrillator. Investigation revealed a statistically higher than normal risk of heart attack at Men's Sheds because of the ages and health issues of some members, many of whom spend considerable time at the shed.
Consequently the Community Bank decided to purchase defibrillator units for both the Peninsula North (Baxter) and the Western Port (Hastings) Men's Sheds. Recently the Hastings group conducted a training session to ensure members were confident in using the machine quickly if it became necessary.
The training course focused on the ease of operating the machine by following simple verbal instructions programmed to start when the machine is switched on. The defibrillator machine has inbuilt sensors which help the operator as well as a diagram on the pads to assist in their placement.
The training session also demonstrated the importance of a clear airway and applying CPR (heart massage) as complimentary and important elements when using the defibrillator.
Men's Shed secretary Colin Proud thanked the Hastings Community Bank and said how much the members appreciated the support.
"Members can be confident that they now have a much better chance of surviving a heart attack should such an event occur at the Shed. In addition they have the added confidence of being much better prepared to help someone else in that situation as well."
Both Men's Sheds meet regularly and always welcome visitors and new members. Contact details can be obtained from the Hastings Community Bank.