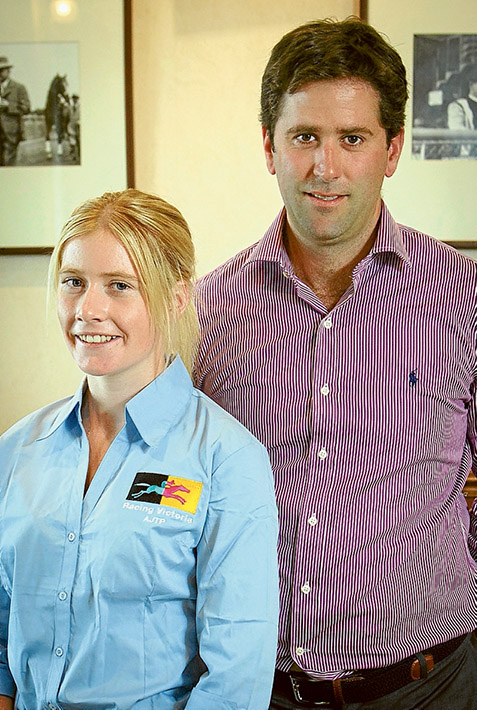 MORNINGTON'S Mikaela Lawrence has her sights set on joining the top ranks of race-winning jockeys.
Already working for Mornington-based trainer Sam Pritchard-Gordon (P-G Racing), Lawrence has now joined Racing Victoria's apprentice jockey training program.
"Mikaela, 21, is the oldest of four students selected for the program's first year class, and has fought hard to earn her position in the high performance program, having not come from a horsey background," Racing Victoria's media and communications officer Daniel Miles said.
In announcing Lawrence's induction into the elite jockey training program, the P-G Racing website described the 49 kilogram apprentice as "a great example of someone breaking in to a very tough industry from a non-racing background".
Lawrence began her racing career as a stable hand to Peter Moody and was soon promoted to riding track work.
But in August 2014 she broke her back, only returning to the saddle about a year ago at P-G Racing's Kingscote Stables.
Since her return Lawrence has ridden some of the stable's gallops and a few jump outs, including a win at Balnarring.
Lawrence was one of seven apprentice jockeys hopeful of beginning their journey to Group 1 glory inducted into this year's jockey training program.
She is the oldest of four riders selected to join the first-year apprentice class, with three other jockeys joining the third and fourth year classes after starting their riding careers interstate.
Lawrence joins Jackie Elliot, Emily Azzopardi and Liam Riordan in the first year apprentice class.
Athlete development and industry careers advisor Melissa Weatherley said the apprentices would receive "extensive coaching to develop the skills, relationships and experience necessary to succeed at the highest level".
"These young riders will not only hone their race riding skills, learn how to live, eat and train as elite sports people, but will also be equipped with the requisite support to develop a successful career once they decide to retire from professional riding," Weatherley said.
Twenty three of the program's 50 apprentices are women, continuing a trend of increased participation over the past three years since a record intake of female apprentices in 2014.
Weatherley said the select group underwent a stringent talent identification process to gain entry into the four-year high performance program which offers specialist learning in areas such as race riding, performance analysis, sports science and sports medicine, as well as media, finance and business skills.
The aspiring jockeys will be coached by retired jockey Matthew Pumpa, former Victorian trainer Matthew Hyland and jockey wellbeing and safety officer, Ron Hall.