SUB-DISTRICT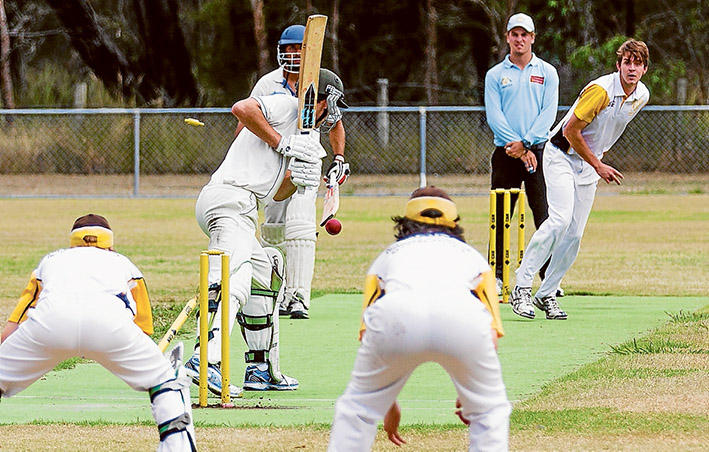 DROMANA maintained its dominance in MPCA Sub District cricket, picking up a solid 29 run win against Balnarring.
With its season on the line, Balnarring resumed on day two at 1/42, chasing 193 for victory. At that stage of the game, the pendulum was certainly swaying in favour of the Saints.
However, an early run out of Mark Walles on the second day put the Saints on the back foot. Tom Hilet was also run out when he was cruising with 23 runs. Dromana was taking advantage of the luck in the match.
Aaron Kaddatz continued his dominant season with 3/40, Danny Timmer claimed 2/31 and skipper Darren Kerr snared 2/1 off two overs to seal the deal.
Balnarring was all out for 163 in the 57th over.
Brenton Taylor was the highest run scorer for the Saints with 40.
Frankston YCW's season is still well and truly alive after beating second placed Hastings.
The Stonecats were certainly favorites to win resuming on 2/85, chasing Hastings' first innings total of 173.
Lai Leaunoa (49) and Jason Bedford (53) resumed and added 43 runs before both falling victim.
Levi McLoughlin-Dore then hit 20 in the middle order to get the Stonecats within range.
However, Hastings struck back and had YCW 6/167, 7/171 and 8/172. The Blues needed two wickets and the Stonecats two runs.
YCW won out, Andrew Kitson and Sammy Fulton both scoring five runs each to drag the score to 184 in 44 overs.
Liam Bradshaw was sensational for the Blues with a season high 5/37 while Luke Hewitt claimed 4/51.
Carrum Downs went hard at an outright victory against Skye but had to settle for the 12 points.
Skye resumed at 2/2 in its first innings in reply to Carrum Downs' 7/294.
The visitors were bowled out for 102. Chamara Perera and Stuart Swift took 3/15 and 3/30 respectively.
In their second innings, Skye batted for 46 overs for a score of 5/57. Perera added two second innings wickets while Michael O'Driscoll snared 3/24 off 10 overs.