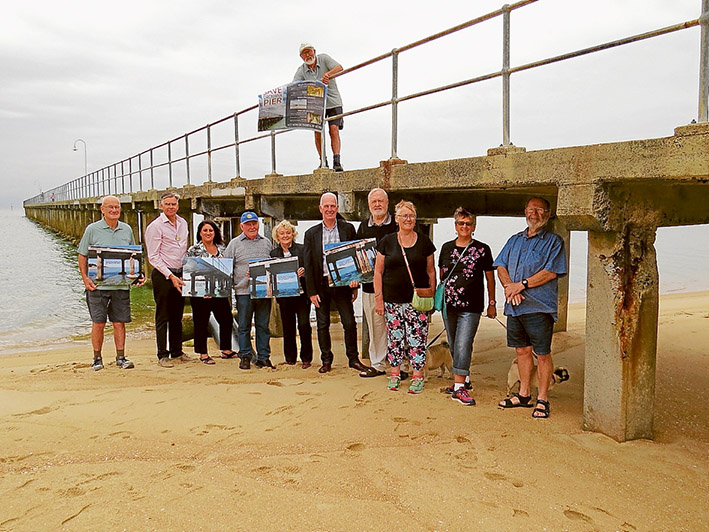 "DROMANA Pier has exceeded its expected lifetime and, despite recent repairs, will need to be demolished in the next eight-10 years, perhaps even less."
That's the view of Save Dromana Pier Committee chairman Ray Barnard-Brown and the unpleasant prospect faced by the group's members who are determined that a new pier replace the existing structure when it is demolished.
Members of the Association for Building Community in Dromana believe that the new pier should be designed to strengthen its public appeal.
They believe that a sound, improved pier is vital to the future of Dromana and is conducting a survey into to which new features should be included.
"Last year VicRoads spent around $170,000 on repairs to the pier," Mr Barnard-Brown said.
"These repairs were very much a patch-up job and are concentrated at the inner end of the pier. They will extend the pier's life by a few years, but do not alter the fact that it will be found to be unsafe in a few years and will then have to be demolished."
His group is determined that when this happens the contract will also include construction of a new pier at the same location.
"If you think of the town without the pier it lacks something," Save Dromana Pier Committee president Bob Donaldson said.
"It's part of our heritage. It gives people somewhere to go, to swim, fish or walk. It's a playground for the kids. It's somewhere to go to blow the cobwebs out of your hair."
Mr Donaldson said the pier – originally twice as long – catered for bay steamers early last century which helped promote Dromana as a tourist destination.
Damage caused by a United States' naval craft during World War II led to it being shortened. The present structure is 54 years old.
Mr Donaldson is confident of public support. "Part of our lobbying over the past five years is to prove there is support for the pier and concerns that it may be lost to the town."
A petition to save the pier launched on Australia Day two years ago has 7000 signatures.
Mr Donaldson estimated a new, longer pier would cost $750,000 and could attract a ferry that would proceed to Docklands.
The group is writing to Parks Victoria to formalise its submission, offering details of proposed public fundraising.
Nepean MP Martin Dixon says he supports the group's efforts to save the pier. "Parks Victoria has advised that the Dromana pier will be repaired and maintained until it is no longer economically viable to do so, at which point the pier will be replaced," he said.
Mr Dixon said Parks Victoria had offered logistical and technical assistance while investigations continued into the design for a new pier.
The pier survey can be completed online at savedromanapier.com or obtained from the information centre, Point Nepean Rd, Dromana.
First published in the Southern Peninsula News – 26 January 2016