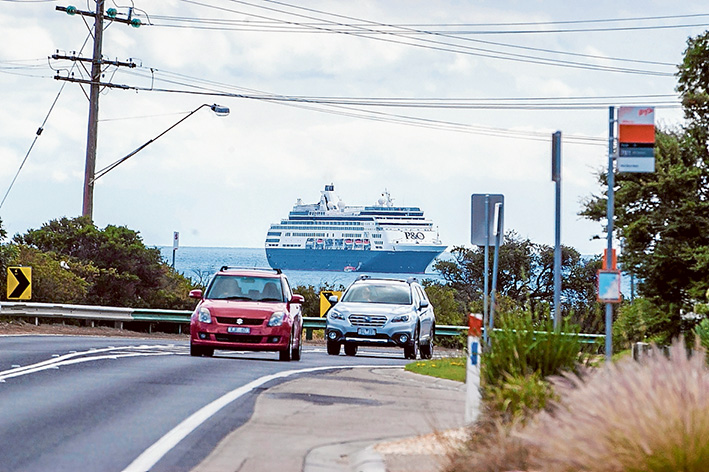 A MORNINGTON market stallholder says the town is missing out on the full potential from visiting cruise ships and possibly helping to turn the boats back.
Pam Burrows, of Mt Eliza, who sells Australiana-theme souvenirs and gifts, says she was dismayed to learn the Mornington Chamber of Commerce committee had decided not to hold a street market because of traders' objections.
"I really feel that this is short sighted and detrimental to future visits by cruise liners," she said. "From experience I know I have always enjoyed browsing the local artisans in a street or wharf market.
"Normally, about half the passengers just like browsing through the town. Not having a market is not upholding all the promises of a warm welcome and memorable experience in Mornington.
"It's almost like we are turning our backs on the ships and it would be a pity to lose them. They will bypass us if there is no atmosphere."
Ms Burrows said the regular Wednesday Main St market brings "hordes of extra tourists to the area".
"My products are certainly not available in shops," she said.
Ms Burrows wants market days changed to Tuesdays when cruise ships visit.
"It's all so secretive, which seems strange for Mornington," she said. "We did embrace the second visit [in February last year] and it was a wonderful success."
Then, traders' stalls the length of Main St, courtesy buses, brass bands and roving entertainers – as well as an official greeting party on the pier – left cruise passengers in no doubt they were the toast of the town.
"But on this last visit [12 January] there was nothing; it seemed like we had turned our backs on the ship," Ms Burrows said.
"We had 900 passengers asking staff at the information centre what there was to do in the town."
The town was expected to be inundated with cruise-line passengers on Saturday with the return of Pacific Eden, and the same is expected on 6 March with the arrival of sister ship Pacific Jewel.
Mornington Chamber of Commerce spokesman Kim Rowe said the traditional traders' market would continue to be run on Wednesdays.
"We won't be running additional markets because of the cost," she said, adding that Wednesday markets gave the cruise liners "an opportunity to come on a different day".
Ms Rowe said the complexities of managing the shipping line's calendar meant "we have no control over their movements".
"If one boat moves even one day it throws out the scheduling of others ships. The calendar takes 12 months to arrange and it's not just Sydney-Mornington, but takes into account shipping movements all over the Pacific."
Ms Rowe said the Tuesday market coinciding with the second visit by a cruise ship early last year had received money from Mornington Peninsula Shire [believed to be $5000], but had "still cost a lot to arrange".
"We really wanted to make a statement to [cruise line owners] Carnival and we did that and it was a great success. We now have a good relationship with them and they deal direct with the chamber, which is unheard of."
A band and staff from Mornington Information Centre were on the pier to welcome passengers and assist with their inquiries in the last visit.
P&O Cruises spokeswoman Candice Lester said "passengers thoroughly enjoyed their recent visit to Mornington, exploring the local shopping scene, sampling local produce and enjoying organised shore tours".
"The Pacific Eden carries 1500 passengers and the vast majority of them disembarked to explore the beautiful Mornington Peninsula. The feedback we received was very positive."