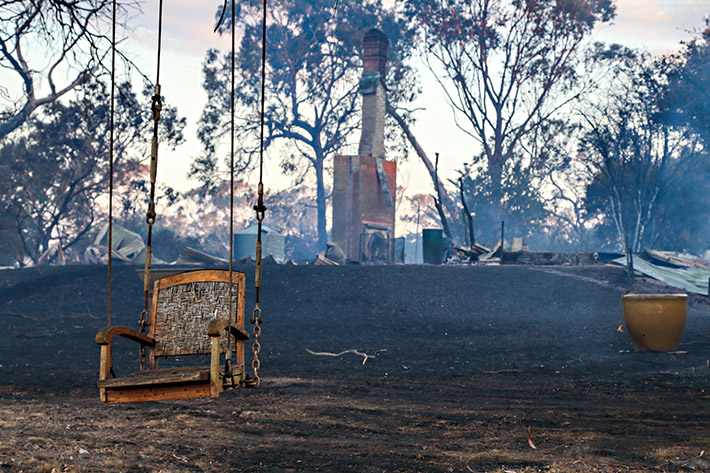 HELP for those affected by a bushfire which swept through parts of Crib Point two weeks ago is coming from the community and state government.
While the government has announced emergency relief assistance for affected property owners, co-workers and friends have already raised thousands of dollars for David and Caroline Tootell, whose house on The Esplanade was the only one lost in the fire.
By early yesterday (Monday 1 February), $6745 had been raised in three days by 172 people who work alongside Caroline Tootell at Peninsula Health to be added to a "substantial sum" raised by Somers Yacht Club auctioning donated items.
"They've been told insurance will cover most of the damage, but not everything. They're understandably devastated," Peninsula Health chief operating officer Jan Child stated in an email to staff when launching a Gofundme campaign to raise $5000.
The Tootells are members of Somers Yacht Club and on several occasions have loaned their boat to the club for state and national sailing events.
Items auctioned to raise money for the Tootells included wine, a bicycle, barbecue, paintings and sculptures, fresh produce and gift vouchers to local restaurants. A bottle of Grange Hermitage went for $700, and a 100-year-old leather bound pocket copy of the Rubáiyát of Omar Khayyám, sold for more than $600.
Mr Tootell after the auction said he and his wife were overwhelmed by the strength of community support.
"It is hard to express how appreciative we are of people's generosity. It is a privilege to be part of such a community," he said.
In an email sent to Peninsula Health staff Ms Tootell described seeing a small grass fire and asking her CFA volunteer neighbour to "call it in".
"I went home and put a few things in the car just in case. The CFA came and, that afternoon, the 'firies' said it was under control and we were safe.We relaxed," she stated.
"Then the wind changed. We had 10 minutes to get out. The fire was already on our property and there was fire on both sides of the road so we couldn't get away."
After managing to drive close to the foreshore they were eventually given the all clear to go to the fire station.
"Someone mentioned our house had made it through ok.
"We were so relieved. When we got to the CFA station we found out the truth. Our house was completely gone. We were in shock. Complete shock. When we went to the property there was nothing to salvage. It was completely gone. It's a nightmare, but we're taking it day by day."
Meanwhile, the government announced on Friday that Crib Point residents affected by the Monday 18 January bushfires could be eligible to receive $520 per adult and $260 per child – or up to $1300 a household – to help meet immediate needs, such as emergency food, shelter, clothing, and personal items.
The payments provide up to $32,500 per eligible household for clean-up, emergency accommodation, repairs, rebuilding the principal place of residence, and replacing some damaged contents. Also, bushfire victims will be able to arrange personal and financial counselling.
Mornington Peninsula Shire and state agencies can seek assistance for the costs of clean-up operations and restoration of essential public assets.
Anyone affected by the bushfires and suffering personal hardship and distress should call the Victorian Emergency Recovery Information Line, 1300 799 232.
General information about the assistance can be found at disasterassist.gov.au and through the Emergency Relief and Recovery Victoria website, recovery.vic.gov.au or by calling 1300 799 232.