DISTRICT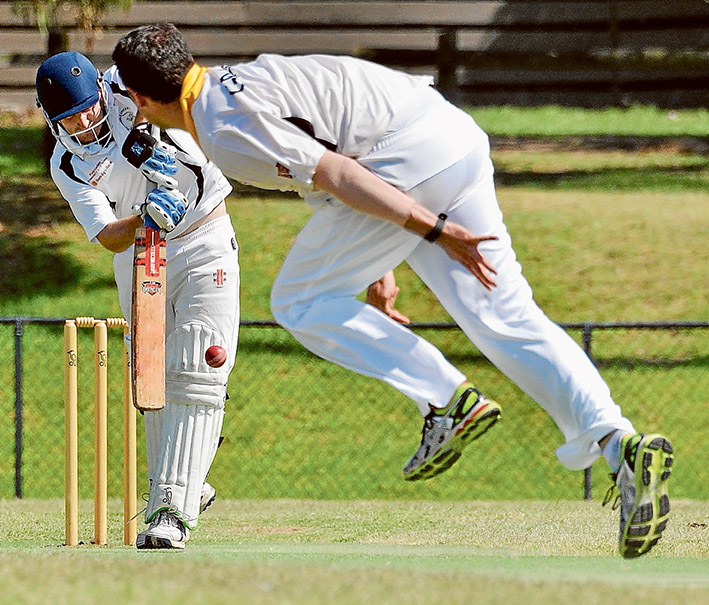 BADEN Powell are in a slump after losing their second match in as many rounds on Saturday in MPCA District cricket.
After dominating for the first seven rounds of the season, the Braves have been knocked over by third placed Pearcedale and on Saturday, against the top of the table, premiership fancies, Red Hill.
Red Hill were restricted to 200 in their first innings on the wide-open expanses of Overport Road Reserve, but were always in the box seat to defend that total.
The score proved to be far too great for the Braves, given the enormous bowling lineup of the Hillmen.
Baden Powell were bowled out for just 103.
Jamie McCall was at his best with 4/7 from six overs, the skipper Simon Dart claimed 3/38 from 16 overs and Glen Collett picked-up 2/45 from 14 overs.
Elia Carter top scored for the Braves with 27.
Pearcedale were able to successfully defend 151 to beat Heatherhill.
With fourth place on the ladder on the line for the Hills, they were in a strong position coming into day two at 2/74.
Jake Theobald (17) and Tyler Neal (43) were the not-out batsmen at the crease and they both fell within a run of each other after adding a further 25 runs to the overnight score.
It went pear-shaped for the Hills after that, losing 8/44 and being bowled out for 142.
Shayne Gillings and Kaine Smith claimed 4/48 and 4/20 respectively while Sam Frawley picked-up 2/19.
Seaford are 12 points clear in fourth position on the District table after beating Boneo.
Ali Mortaza was the star for Seaford with 77, while Paul Hartle opened with 43.
Jack Beale scored 60 runs, including five fours and two sixes in 87 balls for Boneo in the second innings.
All Seaford players other than keeper Faisal Payenda bowled at least three overs in the second innings.
Delacombe Park failed to get the 266 runs required to beat Carrum, winding up their 2015/16 season.
The Parkers were still half a chance to play finals had they have beaten the Lions, however, they fell 37 runs short.
Craig Blight hit his highest score of the season for the Parkers with 84.
Lachy Dobson claimed 3/54 from 20 overs and Tom Burgdorf also helped himself to 3/62 from 23/1 overs.
Seaford Tigers made light work of scoring the 208 required for victory against Main Ridge.
Skipper David James scored 100 and Ash Mills hit an unbeaten 135, including 18 fours and 4 sixes, to finish the afternoon at 4/274.
Flinders couldn't get the 321 needed to beat Mt Martha.
The Sharks are in fifth place on the ladder at the end of Round nine, a game behind Seaford.
On Saturday, it was always going to be tough to get 321. They needed at least one batsman to score a century.
Tom Clements got 58 and Mitch Stansborough scored 55, while Simon Parrott hit 37.
The Sharks needed another big contributor, but couldn't find one.
Brett Wilkinson was the pick of the Reds' bowlers, with 3/34 from 12.2 overs, while Michael Clavin, Jake Smart and Kyle Bendle picked up two wickets each.