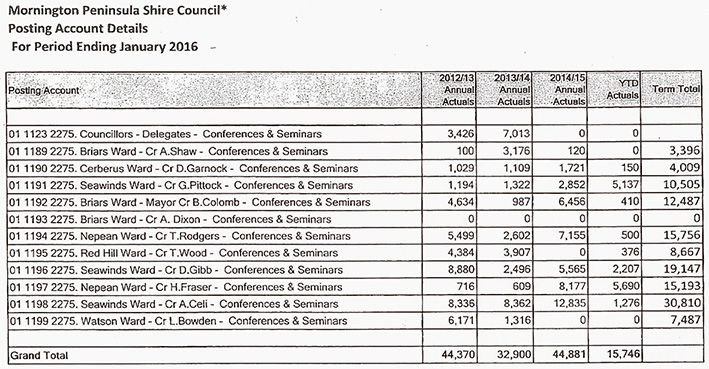 TWO Mornington Peninsula Shire councillors have overspent their seminars and conferences allowance, one by more than 92 per cent.
Figures up to the end of January included in a councillor briefing show Cr Antonella Celi has racked up $30,810 against an entitlement of $16,000, which is $14,810 (92.6 per cent) above her entitlement.
Fellow Seawinds ward councillor David Gibb has spent $19,147, an overspend of  $3147 or 19.6 per cent.
Chief financial officer Matt Hubbard said the extra expenses incurred by Crs Celi and Gibb had been approved by "council resolution" for them to attend "additional professional education programs governed by examinations".
He said this type of spending was available to all councillors.
Cr Celi has been doing a $10,000 diploma in local government since early in her term on council, leaving only $6000 for other spending under the shire's  Councillor Resource Expense Entitlements Policy.
All councillors are entitled to $4000 a year, or $16,000 over the four-year council term.
Cr Gibb used $7000 for a director's course, leaving only $9000 before he reached his $16,000 allowance ceiling.
Cr Celi's spending comprises nearly 20 per cent of what all councillors have spent on seminars and conferences since the 2012 elections, the figures reveal.
In contrast, the table sent to councillors in the briefing papers show Cr Andrew Dixon has spent nothing so far in this term, which ends with the council election on 22 October.
Cr Celi referred inquiries from The News to communications and media manager Mark Kestigian.
The third Seawinds councillor, the mayor Graham Pittock, has chalked up $10,505 (excluding an estimated $6000 trip to Paris), taking the ward total to $60,462 for the period. Nepean ward's Hugh Fraser (who also went to paris at an estimated cost of $6000) and Tim Rodgers each spent between $15,000 and $16,000, for a total of $30,949.
Briars ward's three councillors combined, Anne Shaw, Bev Colomb and Cr Dixon, have spent $22,926 in total.
Cr Pittock said his ward colleagues were "hard-working councillors and probably needed the extra funds".
According to the shire figures Cr Celi spent $8336 in 2012-13, exceeding by $4336 that year's entitlement. Councillors can "borrow" from future years to attend conferences and seminars but must not exceed the four-year limit.
In 2013-14 Cr Celi spent a further $8362, bringing her total spend to $16,698, or $698 over her four-year entitlement in two years.
Then in 2014-15 Cr Celi's spending was $12,835, bringing her total to $29,533. She has added $1276 to that sum in the current year, for a total of $30,810.
The most recent debate, in council and in public, about councillor spending on conferences and seminars, followed the decision last November to send councillors Graham Pittock and Hugh Fraser to the Paris climate change conference.
The Paris request went to council's 23 November meeting where an officer's report estimated the cost of each councillor's attendance at $6146 plus incidental expenses.
The estimated cost of sending the two councillors to Paris would not push either councillor over their $16,000 four-year limit, according to the officer report – a statement that appears in each staff report to council on applications to attend conferences or seminars.
It has since been revealed that the shire's renewable resources team leader Jess Wingad accompanied Crs Pittock and Fraser to Paris.
After close questioning in a long and heated debate about the need for the shire to be represented at the climate change conference, councillors approved the applications. But, in amended resolutions, councillors Pittock and Fraser were required each to present a report to council on their return.
It was also resolved that "a fully itemised expenditure report relating to the conference be tabled to council" for each councillor.
As well, it was resolved that the cost of Cr Fraser's attendance "be capped to the $16,000 four-year term limit". All councillors took part in these votes, apart from the two prospective attendees, who left the chamber to avoid any conflict of interest.