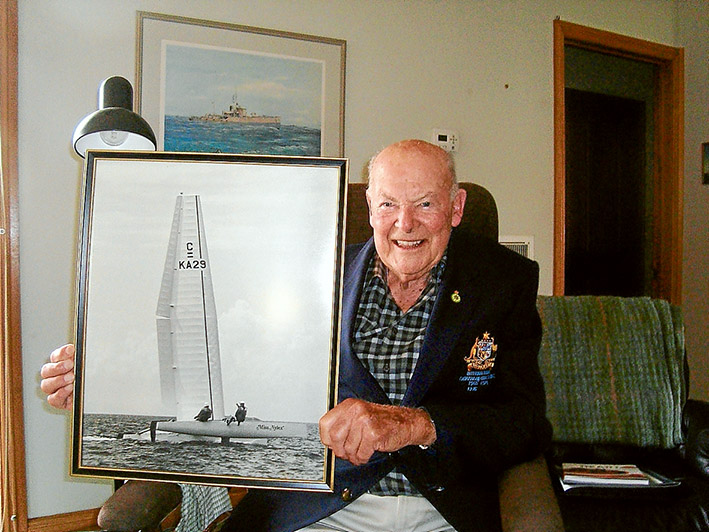 VETERAN international yachtsman John Houston Buzaglo is known around the world as "Buz" although some of his mates have taken to calling him Sir Buz after he was awarded an OAM on Australia Day.
Now in his 92nd year, the Mornington resident was given a gong for "services to sailing as a yachtsman and [sailing] instructor".
Buzaglo is best known for co-founding a syndicate that built the world's first solid-sail racing yacht – it looks like an airplane wing atop a catamaran.
Sponsored by Melbourne-based Nylex Corporation, the C Class catamaran Miss Nylex was built in 1971 and defended the International Catamaran Challenge Trophy (more popularly known as the Little America's Cup) against New Zealand in 1974. It set the Australian speed record for a sailboat of 21 knots in 1972, beat the best 18-footers in Sydney Harbour, and inspired a revolution in racing yacht design.
(Nylex chief Peter (later Sir Peter) Derham, a keen yachtsman himself, was the man who backed the visionary project in 1971. On the peninsula, Sir Peter, who died in 2008 at age 83, was best known for starting Red Hill Estate winery.)
Buzaglo's love of boats started as a boy when he and his two younger brothers built canoes to paddle on a creek near their home in the Dandenong Ranges. In a sign of things to come, he once built a glider with a three-metre wing span. He installed the family cat as test pilot. On its first flight, the cat jumped out just before it crashed.
In his teens he met lifelong mate John "Jock" Scrivenor, who introduced him to sailing in the summer of 1938-39 at Frankston Yacht Club.
Buzaglo joined the Royal Australian Navy in 1942 at age 17 and served on corvettes in the Indian and Pacific oceans, chasing enemy submarines, removing mines, and escorting supply fleets. He rose to the rank of sub-lieutenant and was gunnery officer on his last ship, HMAS Wagga, which was part of the liberation of Hong Kong.
At war's end he joined a firm called Moulded Products, headed by Melbourne plastics manufacturing pioneer John Derham, Sir Peter's father. One of the company's brand names was Nylex, and Moulded Products became Nylex in 1967, later becoming one of the great plastics makers in Australia and giving its name to the world-famous C Class cat.
Buzaglo built his first yacht, a 16 footer (4.8 metres), in his backyard at Cheltenham, and sailed it on Port Phillip with Kath and their two daughters Lynne and Robyn. They were founding members of Beaumaris Yacht Club and later joined Blairgowrie Yacht Squadron.
In the 1950s he saw his first catamaran on the beach at Blairgowrie, near where he holidayed each summer with his family, and later bought an XY16 kit from the "father" of cat design in Australia, Charlie Cunningham.
Buzaglo joined the Cunningham team on its C Class cat Quest in the 1960s and with Charlie's son Lindsay had success in the United States and nearly won the Little America's Cup in the United Kingdom in 1965, capsizing when hit by a squall in sight of the finishing line while leading the Brits in the final race of the best-of-seven series.
The Cunninghams finally won the coveted cup in 1970. The next year Buzaglo and his sailing mates Frank Strange and Chris Wilson founded the Miss Nylex syndicate to take on Quest at trials to pick an Australian defender for the 1972 series.
Miss Nylex performed best but selectors chose Quest as they were worried about the radical wingsail being damaged during the defence against the Americans. The wingsail was designed by syndicate member Roy Martin, who worked at General Motors Holden in Port Melbourne. He was named Australian Yachtsman of the Year in 1974, the first time a designer had won.
Miss Nylex won the right to defend the cup in 1974 and trounced New Zealand's Miss Stars 4-0. Light winds ruined the 1976 defence off Sorrento and Miss Nylex was beaten by a lighter boat, Aquarius from the United States.
After the syndicate disbanded, Buzaglo finished his 32-year career with Nylex Corporation, where he was advertising manager, in 1978 and he and Kath bought a property on Hunts Rd, Bittern, built a lake and started Linden Lake Sailing School, which he operated for 17 years, teaching thousands of children (and some adults) in a safe and controlled environment.
The couple moved to a townhouse within a stone's throw of Fishermans Beach in Mornington about 20 years ago. Until last year, Buzaglo was co-owner of a historic wooden fishing boat stored at the marina in Hastings and regularly threw a line into Western Port with his mates.
In mid-2014 Buzaglo started his autobiography, which will be published this year. It's called A wing and a prayer: how Australian ingenuity produced the world's first solid wingsail catamaran and retained the Little America's Cup.