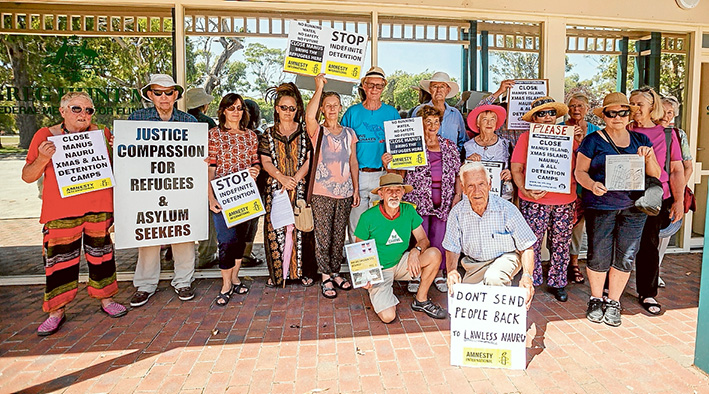 FLINDERS MP Greg Hunt last Friday defended the federal government's policy of returning 267 asylum seekers, including 39 children and 33 babies, to the Nauru detention centre after they have received medical treatment in Australia.
He explained the government's asylum seeker policies to 21 members of Amnesty International's Mornington Peninsula branch gathered outside his Hastings office.
Amnesty member Murray Anderson said the group was unable to get assurances from Mr Hunt that children would not be detained or sent back to Nauru.
Amnesty has stepped up its campaign against offshore detention centres following a High Court decision which said the government's policy was lawful.
Mr Anderson said he asked three times why children could not be brought to Australia before Mr Hunt "indicated that if detainees were to be given an Australian landing then the boats would start again and the smugglers will be back in business".
"This answered my question and I upset Mr Hunt slightly when I said 'Then you are holding the children as hostages'. It was the word 'hostages' to which I believe he took most umbrage," Mr Anderson said.
"I do not believe [Mr Hunt] is not compassionate. He has worked overseas in Asia [and] would be fully aware of the dangers many asylum seekers face and feel for them.
"Unfortunately, his compassion in these areas seems to be buried by his party loyalty. I wonder how he speaks in the party room."
In a statement emailed to The News Mr Hunt said he met the group which "arrived at my office without an appointment" and had been able to "chat with them briefly between meetings".
Mr Hunt said the "government welcomes input from anyone who has constructive feedback on how offshore processing can be improved".
He also outlined how he believed "Labor's failures" had led to increasing numbers of people seeking asylum in Australia and people dying at sea.
Amnesty International issued a news release saying it "believes that these people seeking asylum would be at real risk of serious human rights violations if returned to Nauru".
"Despite the findings of the High Court, which only examined Australian law, it is clear that their return would violate Australia's international obligations," Amnesty's refugee coordinator Dr Graham Thom said.
"All asylum seekers on Nauru suffer the effects of harsh living conditions: their mental and physical wellbeing is being eroded each day, driving people to self-harm and attempted suicide.
"Additionally, Amnesty International has continually received extremely concerning reports of sexual harassment and sexual abuse of women and children asylum-seekers in Nauru."
Mr Hunt said service providers were contracted by the government "to ensure transferees' needs are adequately met, including health and welfare services and specialist services for those under 18 years of age".
"Personally, I believe any life lost at sea is unnecessary and that is why the Australian government is working so hard to prevent further deaths of asylum seekers making their way to Australia," he stated.
"Offshore processing in Nauru and Papua New Guinea is one part of a range of measures being used to stop the people smuggling trade and prevent further illegal maritime arrivals to Australia.
"All people transferred and accommodated at offshore processing centres are treated with dignity and respect and in accordance with human rights standards"
Dr Thom said the Nauru processing centre "puts vulnerable people at risk and operates with an unacceptable lack of transparency".
"This secrecy must be addressed and the independent monitoring mechanism – which was agreed to under the Optional Protocol to the Convention Against Torture – needs to be established."