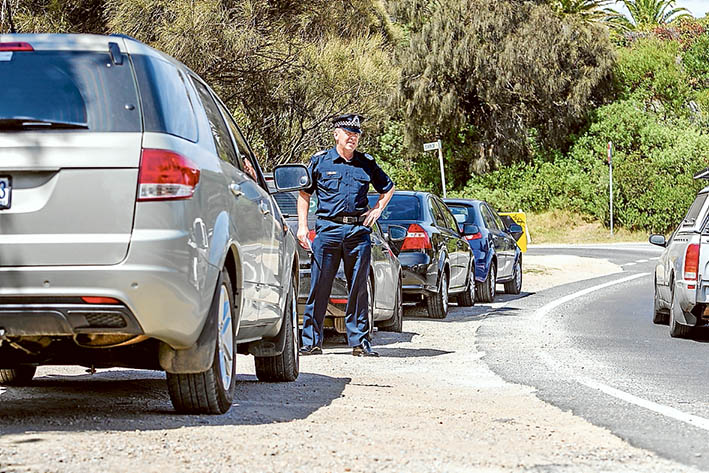 POLICE issued 100 parking fines to drivers of cars parked illegally near The Pillars, Mt Martha, on Saturday 6 February.
Mornington Peninsula Shire local laws officers were also booking cars, although the actual number of council fines issued is unknown.
"The shire continues to have a strong presence in the area and will continue to issue infringements to vehicles parked illegally," environment protection manager David Dobroszczyk said.
"The shire continues to see increases in both illegal and inappropriate parking of vehicles on warm days where there is high visitation at The Pillars."
Many more infringements are likely to be handed out in future, with Mornington police "working with the council to expand existing traffic and parking regulations around the area".
The swimming and rock-jumping hotspot – at which up to 300 young people enjoyed ideal beach weather that Saturday – has become a magnet for young people attracted by glowing descriptions on social media.
The site has a Facebook page and has become an unwanted cash cow for law enforcers. The downside is that young visitors park their cars on nature strips, block roads, disregard road rules and hinder road users, especially on The Esplanade.
Mornington MP David Morris has called on the Roads Minister Luke Donnellan to "deal with this issue before we have an inevitable tragedy".
"This is an urgent matter," Mr Morris said. "We need the minister to put his attention towards it now."
Senior Sergeant Brett Coloe, of Mornington police, said the "high number of pedestrians walking along the road on an already busy Esplanade is an accident waiting to happen".
He said checks on most cars that busy weekend had found they were from Melbourne's northern suburbs – far from Mt Martha.
"This is a big issue for the locals," he said last week. "We get around 50 complaints each weekend and the residents are pretty hostile – and quite naturally so.
"Part of our brief is to provide them with reassurance that their plight has been heard."   
Senior Sergeant Coloe said "competing priorities meant balancing police attendance at this location with calls for service elsewhere" was a challenge.
"The safety concerns at The Pillars are significant, so we will continue to focus on those using the location and working with council to consider common sense solutions."
He said fining drivers would not solve safety concerns inherent to the site – a narrow, busy road, limited parking options and hundreds of young pedestrians attracted to the thrill of jumping from the cliff into clear water.
"The injury suffered by the young girl jumping from the cliff face on the 19 January could have resulted in a fatality," Senior Sergeant Coloe said.
"On that occasion the Air Ambulance and Police Air Wing attended the Safety Beach Marina after the young girl was conveyed there by a civilian in a nearby boat.
"She had come from Broadmeadows, which would seem typical of most visiting the site.
"We've got no control over the safety aspects of the site but we can control those attending. The issue is not the site but the people who use it."
Senior Sergeant Coloe said police "empathised with residents and shared their frustrations regarding both the issues of safety and inconvenience".
Speaking in Parliament last Wednesday, Mr Morris said Mr Donnellan should work with the council to find an amicable solution to the increased popularity of The Pillars.
He said VicRoads should "undertake the necessary works to resolve the current serious traffic and road safety concerns in that area".
"Usage until recently has been relatively low, but social media has changed all that. It appears on YouTube, Facebook and other sites, so we now have very high pedestrian activity on The Esplanade in an area that does not have shoulder treatments for pedestrians."
Mr Morris described feedback from VicRoads as "unhelpful and obstructive".
"The shire sought vegetation trimming and a speed-limit reduction," he said. "The vegetation trimming requested was along the edge of the road seal. The second area was the introduction of a reduced speed limit.
"VicRoads has suggested to the shire that it would be possible to do a variable speed limit from 9am to 9pm. [But] this wouldn't be reasonable as it would require a traffic management company changing the speed limits twice daily, which is extremely impracticable."
Meanwhile, The Pillars will continue to attract young thrill-seekers and annoy older residents, while our lawmakers seek solutions to managing its growing popularity.