By BILLY DIXON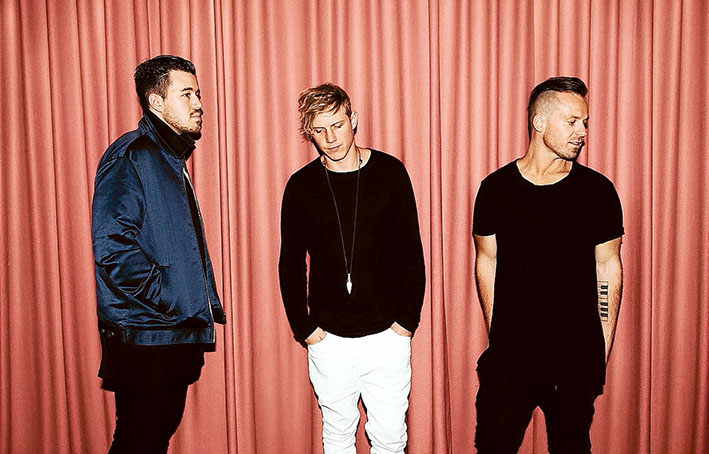 "IN the first few years we were playing, getting to play a show at the Oxford Art Factory in Sydney was a dream… when you actually get to a milestone like that, you're pinching each other and giving high fives!" It's a sentiment that many newer bands can relate to, as they hop from bar to pub to club, trawling the suburbs of their home state for fans. For RÜFÜS, it's a reality that constantly surprises with generous bounties of love and recognition for the indie dance trio, consisting of Tyrone Lindqvist, Jon George and James Hunt.
"You never see it coming, you can't predict it, but you're definitely really grateful for it… by the time we were playing the Enmore in Sydney after seeing so many shows there from the audience, to be on stage there is just crazy." The group's only 6 years old, remember, so to go from Tyrone's alternative, acoustic music to the trio's current global tour is whiplash-inducing. But, as he points out, "it has taken a lot of work, so it wasn't entirely a surprise. To someone outside it might seem a bit out-of-nowhere, but for us, it's been step-by-step, healthy growth."
That's a luxury many entertainers just don't have. Think of the child actor who stumbles onto the set of a blockbuster. Many wound up in the wrong crowd, or dabbling with addictive drugs, but RÜFÜS are going from strength to strength.
Of course, it helps when you're friends with your colleagues. "Jon had just finished a producing/engineering course and was DJing around Sydney when he needed some help musically… I needed help with production, and we just got along, sharing a bond over Booka Shade and Trentemøller." Drummer James Hunt was a high school pal of Tyrone's, and is "a machine on the drums! We got him on board and he's been an integral part of the writing wheel as well."
The musical bond the three share is strong enough to obviate the need for words. "We don't have to talk too much… if one of us doesn't like it the everyone already knows we're moving on to the next thing, without needing to explain why. It's a nice 'one-brain' process."
No power struggles for artistic control here, just the pleasant, melodic electro tunes that RÜFÜS are known for, the world over. "We're three best friends having a good time in the studio, doing what we love to do." Mixing work and hobbies can be a dangerous game, but it looks (and certainly sounds) like they've found the perfect balance.
Like most Australian indie-esque acts, RÜFÜS wouldn't be where they are now without the all-encompassing platform of Australian music that is Triple J. "We used unearthed as a platform… just to get our music online.
"Then, if you're lucky enough, you might get a few spins on Triple J. Now that they've launched Unearthed radio they can cover more new music for people that want to hear it." As a disclaimer, they actually caught the finely-tuned ears of Louie McKerdie, who gave Paris Collides its first national airplay, as well as specialist plays from the odd presenter that happened to find an affinity with their music.
But their live show is their bread and butter. "We felt a real shift in support when we released Take Me, from Atlas… it was our first song to get high rotation on the radio, and since then it's been going gangbusters. "For any artist to get their songs played nationwide, it's a giant opportunity.
Even on our first two Eps, Triple J were great supporters, playing This Summer and Paris Collides. It's almost necessary if you want to tour Australia and break even, or even run at a small loss." It's a nice relationship, one that every fledgling band should aim for in some capacity. "To get the feature album was a huge deal for us… it's been one of our biggest breaks!
RÜFÜS' second full-length studio album, Bloom, was released a couple of weeks ago, shooting straight to number one on the ARIA charts. They'll kick off their nationwide tour in Adelaide on 29th April. The record contains more of their signature sound with just a little bit of evolutionary twist, in keeping with their "step-by-step, healthy growth." It immediately scored accolades from all over the country and should be mandatory in any playlist that features electronic or dance music. Get it now.