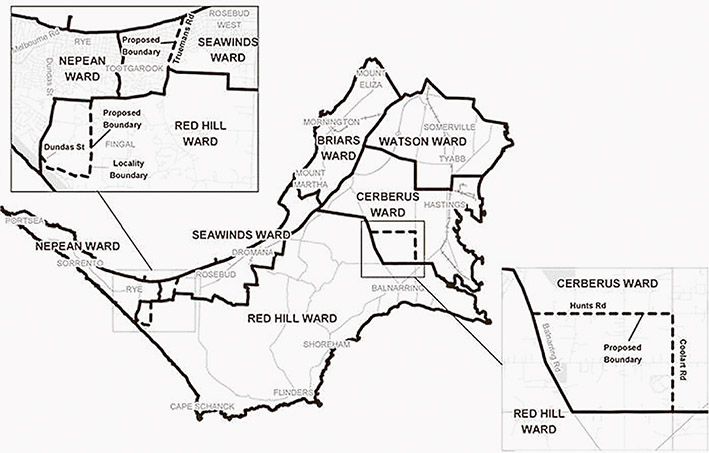 WESTERN Port residents can have a say on proposed municipal ward boundary changes.
The Victorian Electoral Commission is proposing reshaping the boundaries of several Mornington Peninsula shire wards, including Cerberus and Red Hill.
The changes aim to ensure that the number of voters represented by each councillor is within 10 per cent of the shire's average.
If adopted, the rural northern part of Balnarring would be transferred from Cerberus Ward (Cr David Garnock) to Red Hill Ward (Cr Tim Wood), meaning 4765 voters (3.11 per cent of the total) would move to another ward.
Red Hill Ward's current enrolment is 8.74 per cent below the average and is tending to decline, so adding in the balance of Balnarring would provide a cushion against its enrolment falling below the 10 per cent tolerance.
"A subdivision review helps uphold the principle of 'one vote, one value' at the local government level," electoral commissioner Warwick Gately said.
Hastings and Bittern-Crib Point are predicted to grow substantially. In contrast, rural populations at Flinders, Moorooduc and Red Hill, are forecast to decline slightly.
The shire is demographically and socially diverse. The median age ranges from 21 at HMAS Cerberus to 56 at Flinders-Shoreham-Point Leo. Red Hill had 12,721 voters as at 3 December last year, which was 8.74 per cent below the average; Cerberus had 13,636 voters which was 2.18 per cent below the average.
The VEC report is available at vec.vic.gov.au or by calling 131 832. Copies are also available for inspection at Mornington Peninsula Shire offices. Submissions can be made online at vec.vic.gov.au or by email, post or fax. They must reach the commission by 5pm, Wednesday 9 March.
A public hearing for those who have requested to speak in support of their submission is scheduled for 7pm, Wednesday 16 March, at the Mornington Peninsula Shire Offices, 90 Besgrove St, Rosebud. The hearing will not be held if there are no requests to speak.
A final report containing the commission's recommendation to the Local Government Minister will be released on Wednesday 6 April. If accepted, the new ward boundaries will take effect at the local council elections in October.