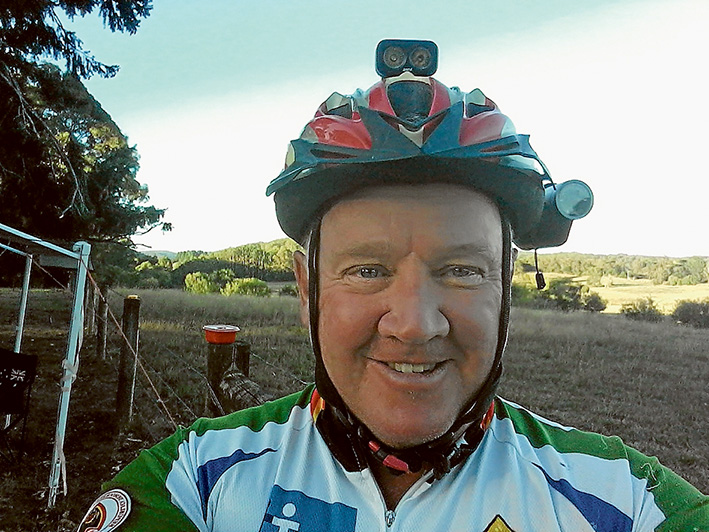 IT would be a rare day when George Paterson could walk along the streets of Rye or pull up at the back beach for a surf check without being recognised.
A long time businessman in Frankston and on the Mornington Peninsula Patterson is an easy to talk to type who always has an adventure on the go or an anecdote to tell.
But lately he's discovered a way to become almost invisible.
The secret is one he shares with others who wear tight fitting, colourful outdoor clothing – in short, they're cyclists.
Paterson has had so many near misses with cars and trucks while pedaling along the road that he's taken to recording his journeys by wearing a camera on his helmet.
Using his own brand of black humour, he fantasises about lying on a hospital bed, unable to talk but knowing that the proof of what happened lies within the camera.
"It's sort of like an insurance policy," he says. "It would be regrettable if I can't speak, but I'd have irrefutable proof.
"Hopefully it never happens but, if it does, I've got the evidence."
And evidence it is. Paterson has supplied images of several incidents to police and Mornington Peninsula Shire.
Knowing that the camera has its uses, but protection is not one of them, Paterson also wears a set of flashing lights on his helmet.
One driver who nearly ran him down admitted, when apologising, that the lights were the only things that alerted him to the presence of a cyclist.
"We can see drivers but they can't see us," Paterson says. "We become invisible."
One of Paterson's videos is likely to be used by the Amy Gillett Foundation, which is lobbying the Victorian government to make it mandatory for motorists to clear cyclists by at least one metre when overtaking.
The foundation – established after the death in Germany of Australian Olympic cyclist Amy Gillett – says it's a meter matters (AMM) campaign is gaining ground nationally.
"In February 2014, no Australian jurisdiction had minimum overtaking distance on trial or mandated. As of January 2016, five jurisdictions have it, or an equivalent, in place," the foundation's executive administrator Kristen Scott stated in a letter to Paterson.
Victorian law talks about keeping a reasonable distance between motor vehicles and bicycles, a measure that Paterson says is unquantifiable.
Speaking with The News from Forrest in south west Victoria before last weekend's 100-kilometre Odyssey trail bike marathon in the Otway national park, Paterson said motorists could use dash cams "to protect their interests".
"However, if they are responsible drivers, following the current road laws, then they will not need them," he said.
"It is clear that many drivers are not familiar with the latest road rules dealing with cyclists: at roundabouts, keeping reasonable distance, dooring, and many more.
"It is worthwhile looking at the current amended laws. Especially regarding cyclists on unmarked roads where they have equal rights with drivers, regardless of the fact they travel slower, which is not different to a tractor or street sweeper."
Paterson says the helmet lights "have definitely saved my life on many occasions, or saved me from injuries".
"Drivers just don't see you, which is incredible considering the fluoro jerseys cyclists wear and the flashing white front and flashing red tail lights.
"The cam images clearly show drivers' startled looks."
Paterson says the flashing helmet lights are head high and rotate with the cyclist's eyesight.
"The fixed frame lights point only forward and can be missed by the unobservant driver. It seems that the constant rotation and elevation is more visible and intuitive for drivers to recognise."
Referring to the case of a motorcyclist booked (and since cleared) for modifying his helmet with a camera, Paterson said he would rather break the law than increase his risk of accident.
"I think I would still ride with helmet cam and lights, even if it was deemed illegal, as the number of potential dangerous events I've experienced, could have been far worse," he said.
"Clearly, most problems arise from the sharing of roads between the different users, such as cyclists, motorcycles, cars, trucks and buses.
"I would fight for 40 kilometre an hour zones through shopping centres, which would bring down car speeds to approximate bike speeds, reducing the consequences of impact.
"The usual red herring argument of shunting cyclists onto bike trails is nonsense. Then the reverse situation occurs between cyclist and pedestrians – utter chaos."
First published in the Southern Peninsula News – 23 February 2016