By ANDREA LOUISE THOMAS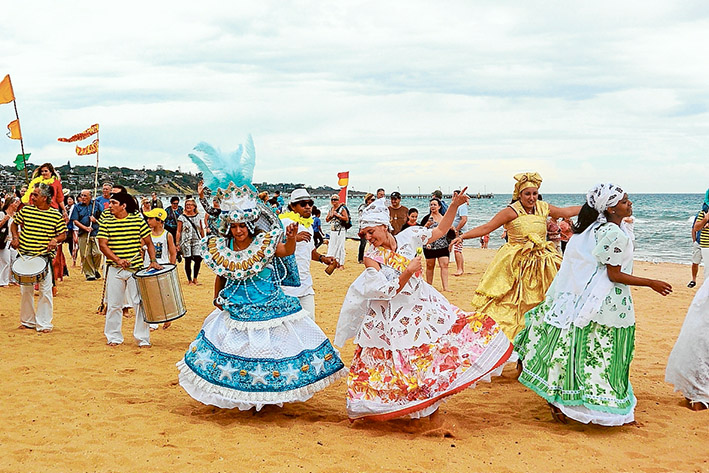 Each year Frankston is taken by storm as the city is immersed in the stories, music, sport, dance, food, film and arts of Latin American, Spanish and Portuguese cultures. The annual month-long
Ventana Festival is a highlight of the city's calendar providing authentic insights into the cultural diversity of Spanish-speaking countries.
With events and activities for all ages, such as, a pop up film festival, concerts, bilingual storytelling, craft and costume displays, soccer, capoeira, luche libre (Mexican wrestling), and educational
workshops, each year Ventana gets bigger and better.
Ventana's Street Fiesta on March 12 is a dazzling display of colour, flavour, song and dance. The "Queen of the Sea" procession kicks it off with Carnival dancers in spectacular costumes sashaying their way from the beach into the CBD. Music and dance continue until 8 pm. A food, drink and craft bazaar on Wells Street offers the tastes and scents of Latin America. Try the pupusa from El Salvador.
The event opens on Friday, 26th February with live music, entertainment, refreshment and an immersive cultural art exhibition. An inspirational film, Landfill Harmonic, about the members of the Paraguayan Youth Orchestra who make musical instruments from the trash they collect at the local landfill screens at 8:30 pm. Opening night events at Frankston Arts Centre from 7 pm.
Don't miss the all the cultural events and experiences of the 10th annual Ventana Festival. Opening night bookings recommended on 9784 1060. If you can only choose one event, go to the Ventana Fiesta on Saturday, March 12 starting at 11:45 from the beach at Playne Street to the Wells Street plaza for the official festival opening. The party continues until 8 pm.
For more info, click on thefac.com.au