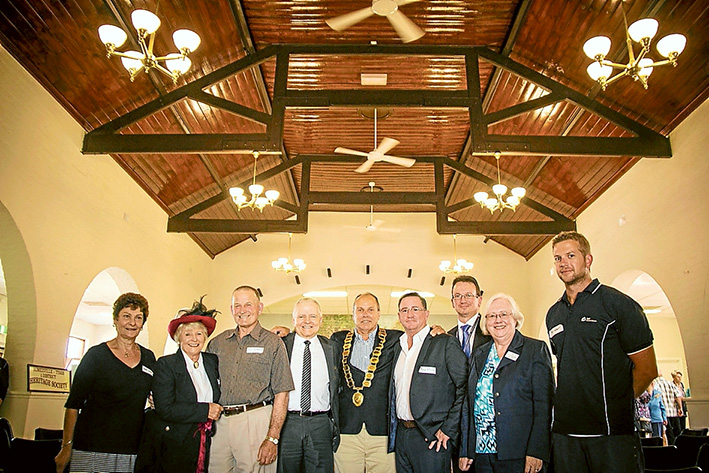 SOMERVILLE hall is again open almost one year since being severely damaged in a storm.
The reopening of the Mechanic Institute hall earlier this month also marked 125 years since a hall was first built on the Station St site and a century since two rooms were added at the front.
Among those gathered for the reopening ceremony was the mayor Cr Graham Pittock, Cr Lynn Bowden and shire CEO Carl Cowie.
Land for the original hall was donated by Henry Gomm, with building money being raised through public subscriptions, bazaars and other fundraisers. The hall was managed by volunteer committees (until the 1980s) and it became the centrepiece of the town and a venue for community gatherings and the horticultural show.
In 1916 the two front rooms and façade were added and used by the library, community groups and the Manchester Unity Lodge. These rooms now house Somerville, Tyabb & District Heritage Society.
"Over the years the hall has been used for silent movies, dances, balls and concerts," Cr Bowden said.
Cr Bowden and Cr Pittock unveiled a Mechanics Institute of Victoria plaque which explains how the institute began in British urban industrial centres in the early 1800s. A "mechanic" was a person applying skills and technology.
In the 19th century, most towns in Victoria established a mechanics' institute or athenaeum with a library and meeting hall. The objective was to "spread useful knowledge" and provide for "rational recreation" in the community.
Somerville, Tyabb and District Heritage Society runs a museum in the hall's front building, which displays historic photographs and objects, as well as books and albums. The museum is open 10am-3pm Wednesdays, and 2-4pm Sundays. Entry is free.