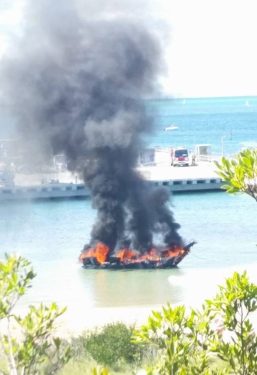 AN accidently discharged flare may have caused a fire at Blairgowrie Yacht Squadron, Saturday (20 February), which destroyed three boats and burned a man's face.
CFA crews from Sorrento, Rosebud and Rye attended the incident at 2.30pm.   
Thick black smoke billowed from the boats which were tied up at the marina. Some members trained hoses on the blaze in a desperate effort to stop it spreading to neighbouring boats.
CFA District 8 Operations Officer John Francis said firefighters from CFA and Coast Guard took 30 minutes to control the blaze.
"Two boats were destroyed, another was severely damaged and another four to five were scorched in the blaze," he said. The number of boats lost was later put at three.
A man in his 70s, who may have accidently started the fire, received minor burns and was treated by paramedics at the scene before being taken by ambulance to Frankston hospital. He was discharged on Monday.
Victoria Police, Maritime Safety and WorkSafe attended the incident in which the thick black smoke was fanned by strong south-west winds.
Club general manager Amanda Jacobs praised the efforts of a work team which managed to drag two of the boats away from the marina, helping confine it. They later sank.
She said a club internal debriefing session would examine the causes of the fire and the response, and work towards minimising future fire threats.
First published in the Southern Peninsula News – 1 March 2016