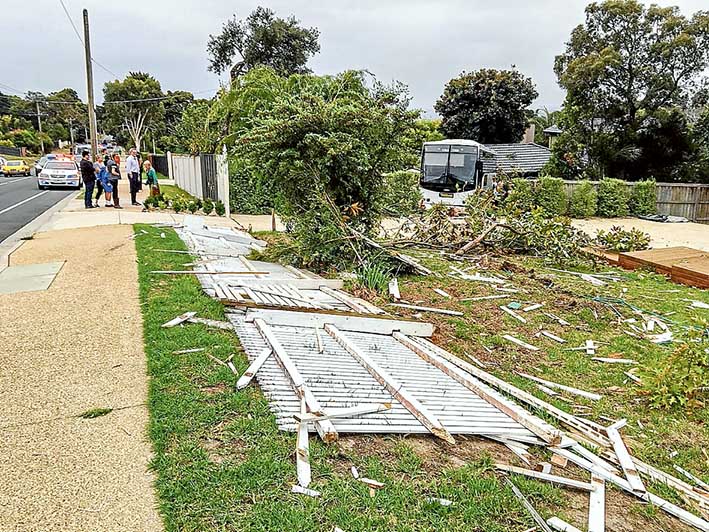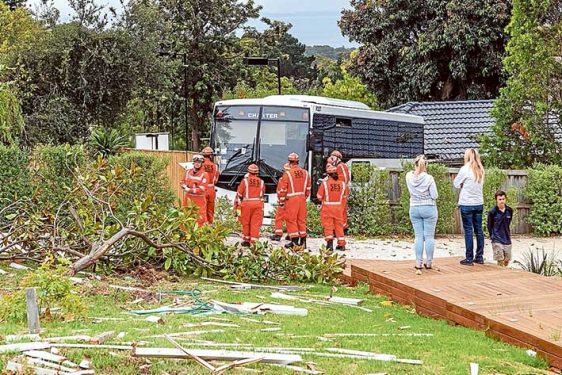 A BUS being repaired on the side of Humphries Rd, Mt Eliza, rolled backwards, crashing through fences and into properties when the brakes failed, early evening, Friday 19 February.
A mechanic tried to steer the Ventura Bus Lines vehicle while looking over his shoulder as it sped 300 metres downhill and out-of-control.
The driver had managed to jump off as the bus began rolling, but his efforts to replace the wheel chocks failed and the bus gained speed as it careered first into one property, then through a side fence and only coming to a standstill after virtually destroying a neighbour's studio bungalow.
A swathe of trees and shrubs were flattened, but Frankston SES's Brian McManus said it was lucky more damage, possible injuries or even fatalities were averted.
"The bus mounted the curb and even rolled between a power pole and a fence without hitting them," he said. "The whole thing was amazing."
Frankston SES incident controller Phil Holt said it was lucky no one was injured in the freak incident.
"We got the call at 6.27pm saying there was a vehicle into a house – but when we got there we saw it was a bus," he said.
"It must have rolled a couple of hundred metres and the mechanic did well to keep it on the road for most of the way, but there had to be an outcome and it crashed through fences and into an office causing significant damage.
"We made the area safe and prepared for the arrival of heavy haulage."
Senior Sergeant Peter Rowley, of Carrum Downs highway patrol, said the fact no one was injured was "miraculous".
"It was going faster and faster downhill but, somehow, it didn't hit anything until it went through the fence. Anything could have happened."
Ventura fleet operations manager Michael Hourn said the company was investigating the "serious incident".
He said reports had been sent to Transport Safety Victoria, and that internal investigations would help determine a cause, leading to preventative measures being taken.
No school children were on the school bus, which is contracted to Padua College.
Two heavy haulage tow trucks managed to tow it from the properties, which are opposite Fultons Rd.