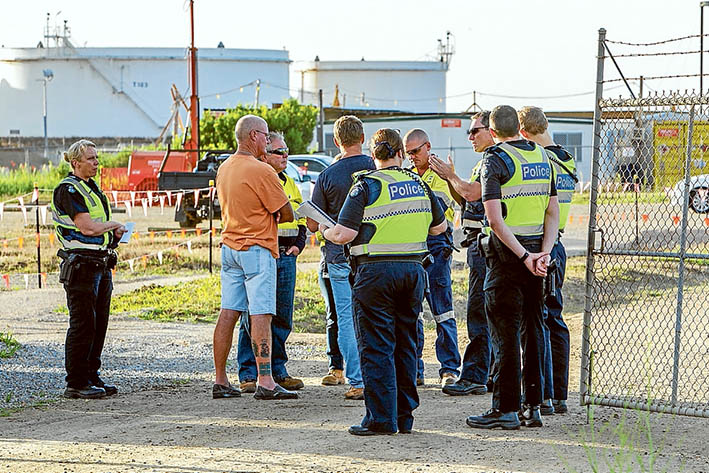 POLICE visited a picket line at the United Petroleum site on Bayview Rd, Hastings, Tuesday, but took no action against protesters.
Hastings Senior Sergeant Steve Burt said the company had contacted police. "They just wanted to know what was going on, so we attended," he said.
"The protest was peaceful and gave us no cause for concern. We talked to the protesters who guaranteed a peaceful blockade. They have every right to protest and, unless they cause a problem, everything's OK."
Organiser Kevin Roberts said workers entering the site – at which West Australian business Decmil is contracted to supply engineering services – were asked to observe the picket line protesting substandard wages and conditions.
He said his group was not union-affiliated, but was concerned workers engaged in building the United Petroleum storage tanks, loading gantries, pumps, piping, fire protection systems, and tank rooves, were being denied fair wages and conditions.
"The picket line is not a union protest," he said. "We are a group of present-and-former construction industry workers concerned about interstate companies coming into our local area and imposing substandard work agreements.
"We have been in the industry most of our lives and this is our third protest: the others have been in the LaTrobe Valley and Lang Lang."
Mr Roberts said the group especially targeted firms bringing in overseas workers on sub-standard wages-and-conditions agreements. This covered income protection, maternity leave and leave loading.
He said about half the workers at the Bayview Rd site were being "disadvantaged by award conditions which would have been OK 15 years ago but not now".
The protesters met with Decmil management on site. They said they were told their concerns would be addressed but no replies had been received Wednesday.
Mr Roberts said that of the 40-to-60 workers on site, about half had refused to cross the picket line.
Decmil spokesman David Ikin said: "Decmil meets all its obligations in terms of the conditions and pay offered to employees.  The company prides itself on being an employer of choice, and, as such, attracts top-quality people to the business across all its worksites."