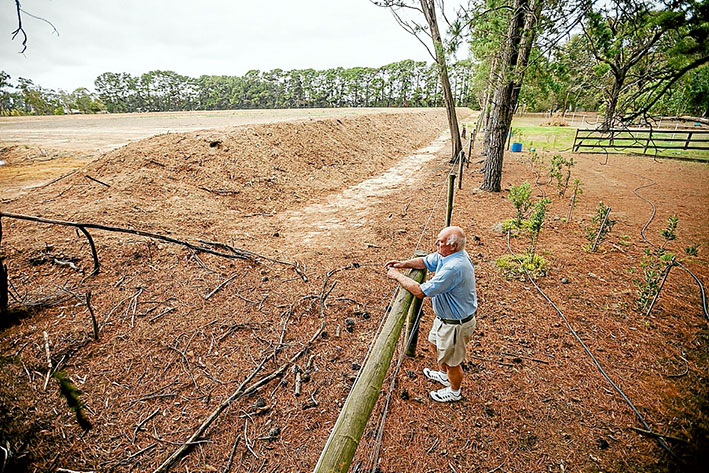 TYABB Ratepayers' Association is ramping up its opposition to a pending "open cut mine" at Somerville which it says will generate profits for the quarry owners but losses to residents of Somerville and Tyabb".
Members are "considerably concerned" that further development and more intensive extraction works at the Bayport Industries' Pottery Rd quarry will turn 24 hectares of the old Peninsula Pottery site into a 30 metre deep open cut clay mine.
They say all vegetation on the site is, or will be, removed, and that, from this month, up to 280 dump truck-and-trailer loads of clay a day, five and half days a week, will exit and enter the property onto Jones Rd.
Further, that while the quarry's use was not out of place on a backblocks site 45 years ago, the area's transition from rural to residential makes it an anachronism.
Although it is acknowledged that the owners have long-held permits, and existing use rights for clay extraction, the association fears the latest plans so far exceed what has been done in the past that new permits should be required.
It says the increased activity will generate "intolerable dust and noise and disturb wildlife, impact on children travelling to school, and reduce nearby property values". They fear the quarry may eventually be filled with hard waste.
A company letter to nearby residents stating it intended to begin larger-scale clay mining as of yesterday (Monday), has reportedly been stalled by the Department of Economic Development, Jobs, Transport and Resources. The News was told Friday that Bayport had been told to stop clearing land near the boundaries of adjoining properties until after a public meeting on Wednesday 15 March.
Bayport development manager Daniel Petroni declined to comment last week. "We don't want to get drawn into discussions with neighbours," he said. "We've had ongoing operations here for 20 years and the quarry has been here since 1969. It's our policy not to comment."
The company held what it termed a "community consultation meeting" at Pottery Rd, 10 February, "to discuss recent concerns raised by adjoining property owners … with respect to works undertaken on our quarry site, tree clearing, land drainage, and establishment and revegetation of bunds, going forward".
It invited residents from Pottery and Wellington roads to meet with company representatives. Also attending were consultants, Mornington Peninsula Shire Council officers and representatives of the Department of Economic Development, Jobs, Transport and Resources.
Tyabb Ratepayers' Association spokesman Alan Robinson, who lives on Jones Rd, agreed the company's long-standing clay mining operations and extraction permits in place since 1969 gave it certain legal and moral rights to continue "existing" operations.
But he said the massive scale of the planned works meant existing-use permits no longer applied.
"People bought into the area under assurances by the then-council that the mine was almost disused and there were no plans to extend its operations," Mr Robinson said.
"There's been hardly any activity on the site in the past 12 years except for a short burst of intense work last October, which included some land clearing and burning off.
"Now, [under the latest plans] those living near or abutting the quarry will have to endure increased levels of dirt and noise day in, day out."
A resident whose property backs onto the quarry was last week shocked to find all vegetation removed up to the fence line, while clearing works had yet to begin up to their neighbour's fence. Bunds – or earthworks up to three metres' high – are planned to provide privacy screening.
The land clearing works provided a contrasting view of what the quarry had been, and what it will become, if planned operations go ahead.
Talk of a petition to restrict the mining operations was floated on Facebook Thursday. Comments included: "It's all been kept hush hush; I got a letter and was appalled, and, does anyone know about community meeting?"