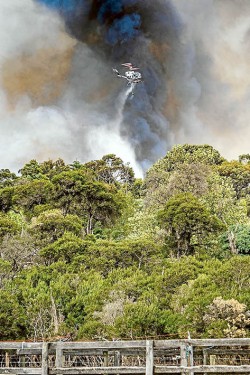 A POSSUM has been blamed for starting the three hectare blaze that threatened parts of Somerville, Tuesday, and destroyed 300 timber sleepers on the Stony Point-Frankston train line.
Hastings police Senior Sergeant Steve Burt said he believed the marsupial caused an electrical fault in a transformer, generating sparks near where the grass-and-scrub fire started.
But Victoria's emergency management commissioner Craig Lapsley didn't consider the possum theory when saying the cause of the fast-running fire was still being investigated. "We haven't seen any lightning, that means it's got to be the human factor," he said. "Whether that's a vehicle, a human hand or a mistake."
Metro crews were working "around the clock" to replace the sleepers and repair signal damage so services could resume, spokesperson Sammi Black said.
"The damage occurred between two level crossings: Eramosa Rd and Frankston/Flinders Rd. We expect to have normal train services running from midday today [Thursday] between Frankston and Stony Point."
A CFA relief centre was set up at Somerville Recreation Reserve, Edward St, Wednesday, to assist those affected by the fire. Municipal fire prevention officer Damien Taylor said the emergency relief centre provided a refuge and support to any residents directly impacted. It offers essential and urgent support to individuals, families and communities during and, in the immediate aftermath of an emergency, he said.
About 28 trucks from most peninsula brigades fought the blaze to prevent it escalating in the 40 degree heat, but emergency warnings were downgraded Tuesday evening. Four crews remained on Wednesday with firefighters blacking out danger areas in cooler conditions.
Somerville CFA Captain Alan Monti said despite being relatively small the fire was intense, and had to be fought in a difficult environment. He said properties north of the town and west of the railway line "suffered a fair bit of damage".
"Our crews did a great job in fighting it," he said.
The state government last week offered financial assistance to Somerville bushfire victims. It said individuals and families affected by Tuesday's fires could access personal and financial counselling.
Mornington Peninsula Shire Council and state agencies are able to seek assistance for ratepayers, and for the costs of clean-up operations and restoration of essential public assets.
Details: call the Victorian Emergency Recovery Information Line on 1300 799 232.
The Somerville fire was one of 115 fires that burned in Victoria on Tuesday, one of the hottest days of the year.