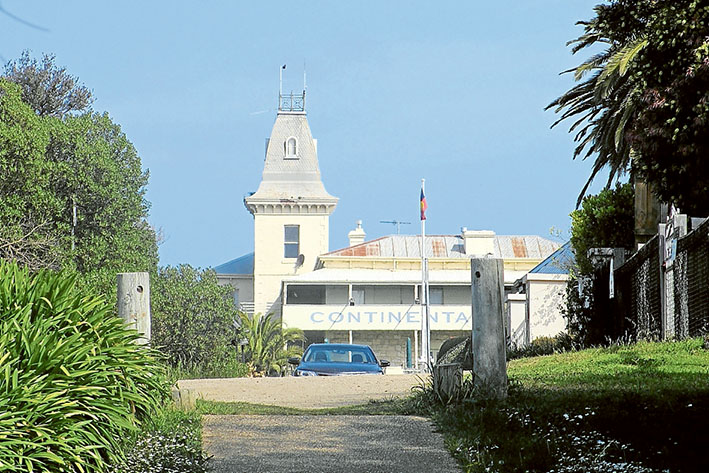 THE sale of Sorrento's landmark Continental Hotel is believed to be edging closer, after being on the market for the past 12 months with an expected price of $15 million.
'The Conti', with 23 bedrooms, 10 bathrooms and 30 car spaces, has been owned by the Di Pietro family for 21 years. It was built in 1875.
It is believed a consortium of local businessmen is negotiating to take it over subject to being allowed to build units on the rear, council-owned car park. The exact number is unknown, but a three-storey block with 30 apartments has been suggested.
The car park could cost $1-$2 million.
The 3580 square metre hotel block is being offered through Sothebys International in conjunction with CBRE.
If the sale goes ahead, there are also plans to redevelop the four-storey hotel as a stylish, full-service hotel and restaurant, with pool and day spa, but without public accommodation.
Local businessman Julian Gurner would not confirm his role in any prospective purchase, but hinted that a town planning permit application had been submitted to the shire. He said the project was being advertised this week.
He denied the rear car park would be used for apartments.
However, the potential loss of that land as car parking is upsetting traders, with the main street – Ocean Beach Rd – often in gridlock during summer. Parking is at a premium with the loss of any spaces resented.
Chamber of Commerce vice-president Marc Clavin said parking was the "No. 1 issue in Sorrento". He said any spaces lost at the east end of the commercial strip would need to be recouped elsewhere.
He said traders want the shire to spend money from the sale of the rear car park on new spaces on George St and Morce Av, near the RSL.
Mr Clavin said it was critical the shire received the best possible return from the sale of the site so it could maximise future car park spending.
First published in the Southern Peninsula News – 8 March 2016