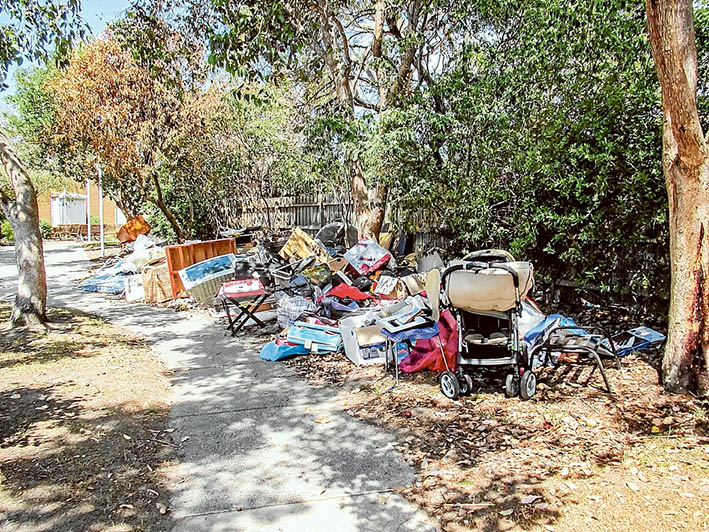 RUBBISH dumped outside a public housing unit block in Mary St, Mornington, has been piling up since November attracting vermin and becoming a fire risk.
A Mornington Peninsula Shire ranger reported the mess but, because the property off Spray St and behind Main St is on Department of Human Services land, he was unable to launch a clean-up operation.
The rubbish remained – and grew – posing a threat to the 30 mainly aged and infirm residents in the units whose only point of access was becoming blocked by the pile.
Mornington fire brigade twice put out fires caused by vandals. A resident put out another fire later.
The daughter of a neighbour, Jennifer Webber, said she spoke to the fire brigade, which said the rubbish was a shire responsibility, and to the shire, which said it was up to DHS.
"In the meantime two arson attempts have been made and, on a hot day, strong winds and fire could effectively block residents from evacuating. I am going to try the EPA next," she said.
Later, she told The News: "DHS finally got back to me, saying: 'I write to acknowledge your email received on 2 March 2016. The department will review the matter you have raised and advise you of the outcome of your complaint.  It is hoped a response can be provided by 20 working days after receipt'.
"This is not good enough," Ms Webber said. "The rubbish has been in front of [the units] since November last year and 20 working days is four weeks – yet it is such a danger to residents."