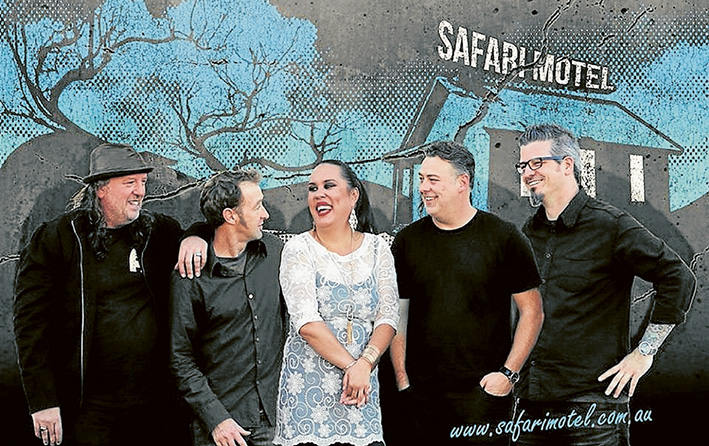 By TERRI LEE FATOUROS
With Liam Kealy on Hammond keys rocking it and Dean James producing first-class riffs on lead, the four originals of Nicholas Pearce (sax), Jason Nehill (bass), Neil Richardson (percussion) and Nicole Nehemia (vocals) are paramount in sound. Their panache is making waves at the Heritage 3059 on Sunday, 13th March.
Safari Motel are seeped in soul, funk and blues and combined with their big band sound is really rocking it. Over the past two years they have been playing regularly at festivals around the state and have attracted a huge and loyal fan base. Their mix of feel-good, high-energy original funk, groove, blues and soul music has earned them a place in the thriving Melbourne music scene as one of its most sought after live acts. 
The band performs regularly at many major music festivals including Motor City Music, Echuca Winter Blues, Wangaratta Jazz, Blues Train and Docklands plus a heap of others. 
Recently, these talented musicians were finalists in the MBAS International Blues Challenge and had their debut album in the Top 30 of the Australian Blues and Roots Airplay Chart.
Nehemia's vocals still hold that intensity of range, and if any change is noticeable after all this time it's her ability to project her voice; I reckon she could break glass if push came to shove as she can really belt out a song. However, just as easily she can do soft, mellow and sensual lyrics and is perfect as front woman for her band.
Safari Motel are pulling no punches; they've got the ingredients to go a long way in this industry, they are the real deal in funky soul and a band to watch out for. Catch them up close and personal in Balnarring at the Heritage 3059 this March – they'll hit the stage at 3pm on Sunday the 13th.