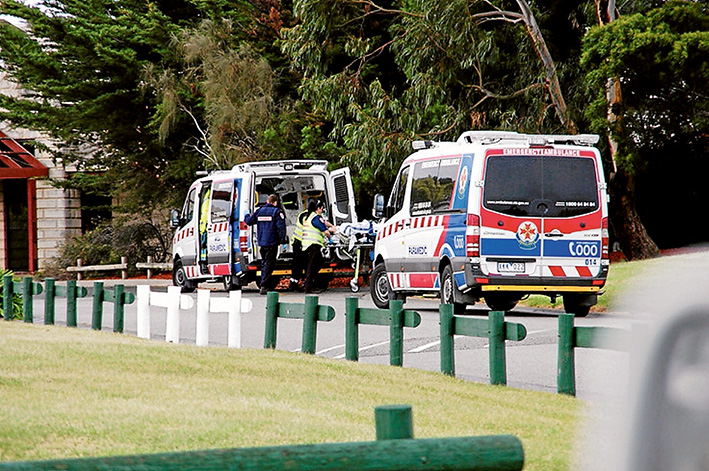 ALTHOUGH parts of Frankston and the Mornington Peninsula have been flagged as areas of risk for paramedics, none have been declared "no-go" zones.
Described as being "like pieces in a pie" by Ambulance Victoria, the 105 areas in Frankston, Mornington, Rye and Hastings and surrounds are listed because of past incidents of violence, or ongoing safety concerns.
Most flags relate to where paramedics have previously been attacked by patients with mental health issues, use drugs or own a firearm.
Despite the dangers, paramedics will be dispatched to these addresses with police being asked for back up.
One example given to The News involves patients who are known to bite or kick.
Without a police presence, the bottom line is: if paramedics feel in danger, they won't go.
A metropolitan newspaper last week reported that the list of paramedic danger zones had tripled in some suburbs in just five years, with paramedics routinely refusing to respond to calls for help without a police escort.
The number of addresses regarded as unsafe or violent was said to have risen by almost 25 per cent across the state in the same time.
The surge in trouble spots is reported to coincide with a rise in violence surrounding the increasing use of ice.
The documents released to the newspaper under freedom on information showed 54 paramedics were assaulted or confronted with violence in 42 days last October and November.
Dandenong has 34 flagged locations, the most of any postcode in Victoria, followed by Frankston 29, Reservoir 27, Cranbourne and Greater Geelong, 22, West Footscray 21 and Heidelberg 18. Mornington has 14. Outside the city Greater Bendigo, Greater Ballarat and the Latrobe Valley each have 12.
Other areas of the peninsula, such as Rosebud West and Hastings, and, to a lesser extent Seaford, Langwarrin, Mt Eliza, Rosebud, Rye, Sorrento, Bittern, Baxter, and Crib Point, are also flagged after previous episodes of violence or safety issues.
The flags might also relate to the presence of defibrillators, frequent callers, hints on accessing property, and patient medical information.
Safety warnings could be as innocuous as alerting paramedics to a steep block, narrow driveway, or whether a nearby oil refinery might make the use of walkie-talkies dangerous.
Ambulance Victoria acting general manager emergency operations Mick Stephenson said staff safety was paramount.
"We do not tolerate any violence or aggression towards our staff," he said.
"We are continually reviewing our systems to provide the safest possible work environment for paramedics.
"No paramedic is expected to enter a scene where violence is likely or suspected."
Mr Stephenson said 9331 special patient information records were in the system in October. Of these, 816 related to aggressive situations, with 39 stating police "may be required". A further 355 records related to safety, with 47 records stating police "may be required".
Ambulance Employees Association state secretary Steve McGhie said violence towards paramedics was caused by drug-affected people, including ice users, but he also blamed domestic violence and alcohol abuse.
He said about one paramedic a day was being abused or assaulted.
"Paramedics should certainly not put themselves at risk because there's no benefit to anyone if they get smacked up or stabbed or shot at."
Mr McGhie called for a "no tolerance" education campaign and for more people with mental health or drug issues who assault emergency workers to be charged so the courts could judge the extent of mitigating circumstances.