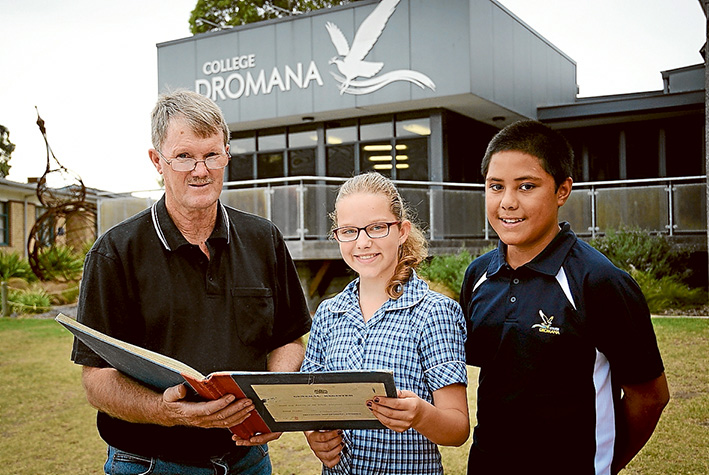 FORMER students of Dromana College are planning a variety of celebrations for the college's 50th anniversary this time next year.
Parent liaison officer Theresa Stelling and past teacher Doug Smith are heading up the steering committee for the event on Sunday 12 March 2017. It will have a carnival atmosphere with rides, bands, stalls and myriad attractions.
A highlight for the pair has been getting in touch with the first technical school student in the roll book – Trevor Birch.
The school has an interesting history. It began when former Flinders Shire Councillor George Bishop, a policeman stationed at Dromana, called a meeting for parents of prospective students at Rosebud Memorial Hall, October 1966.
The year before he had tried, and failed, to get a technical school in Mornington.
Cr Bishop believed the time was right for a technical school to complement the co-ed Rosebud High School, which had begun in 1954, and Red Hill Consolidated School, which held classes from Prep to Form 4 (now Year 10).
Any boy, however, wanting a trade education, had to catch a bus to Frankston Technical School.
Cr Bishop's famed "drive and enthusiasm and no-nonsense approach to his community" ensured the establishment of Dromana Technical School – 107 years after our town's beginning.
By then, the population of the southern peninsula justified a permanent technical school south of Frankston covering the shires of Flinders, Mornington, and Hastings.
The Old Tin Shed
DROMANA Technical School opened 8 February 1967 in the "Old Tin Shed" – a former Flinders Shire works building – and in some portable classrooms in Palmerston Av. Dromana. On the first day 109 students from all over the peninsula enrolled: 79 in Form 1 and 30 in Form 2.
Move to Harrison's Road
THE first principal, Noel Maher, along with Cr Bishop, guided the school during its fledging years. Although only at Dromana a short time, Mr Maher oversaw the purchase of 28 acres on Harrison's Rd, near Moats Corner, to build a permanent school.
The second principal, a Mr Green, was involved in the building works costing $660,000. It had two academic wings and a trade wing with associated out-buildings, as well as a tennis and basketball courts.
First published in the Southern Peninsula News – 15 March 2016